Subscription box process
Your subscription box business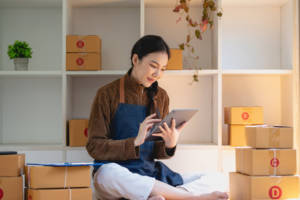 It is really exciting when your first subscription box order comes in. But before you know it you've got a lounge room full of boxes and you're spending your days and nights picking packing which takes hours. Add to that queuing at the post office and sometimes the lack of reliability at a post office you can see why outsourcing your subscription box fulfilment is a really wise choice.
How does fulfilment work?
Our subscription box fulfilment and delivery is really straight forward. We allocate space in our warehouse for you to store your packaging and the various components of your subscription boxes. We manage your goods in so your suppliers can send all your subscription box components direct to us. We set aside a regular time per month to do your subscription box build and we will liaise regularly with you to make sure we have all the contents for that in a timely manner. Regardless of how many subscription boxes you may need to fulfil in a monthly basis we will always have resource is available. And then build commences.
The build
A build can mean constructing a box inserting an attractive wrapping paper multiple inserts whether they are marketing or information leaflets, the goods of the subscription box themselves and various other additions. For example a books box may well have a couple of leaflets, a brilliant book, perhaps a pair of socks and a sweet treat and a jute bag. We attractively pack these goods label them and dispatch them to the end user.
The technology
There is a bit of clever technology in here  –  our very own Despatchlab – Which can integrate with your systems – which produces the labels and tracks they subscription box from dispatch from our warehouse to delivery to the end user. Our integrated logistics management service means that if something does go wrong then we are informed of it and are able to remedy it under our agreed SLA.
When is it time to outsource subscription box fulfilment?
I would say at around 200 boxes per month you've got a good idea about where the trajectory of your subscription box business is going. You've got a good number of regular purchases. And actually having to pick pack and dispatch 200 boxes takes a surprising amount of your time. Time that could be better spent in developing your business.
What is the cost?
With storage from £5 a week, picks from £1, and dispatch from £3.59 most of our clients find that if they charge a standard postage and packaging fee of five to six pounds that their logistics is effectively free.
Our dedicated team
We have a dedicated subscription box team, specialist in subscription books fulfilment. Incredible attention to detail, amazing customer service and really adaptable and flexible support or helps our subscription box customers grow.
So if you're looking to scale your logistics business in 2023 then Diamond Logistics is the fulfilment company for you. Our dedicated subscription box team look forward hearing from you.