Running multiple strands of a logistics operation simultaneously, while also offering the best service to clients brings with it unique challenges. Once upon a time businesses needed to juggle multiple systems, multiple carriers, a fleet of vehicles and premises. Now, diamondlogistics leads the field having created a one-stop and bespoke logistics platform that does it all. Built in-house, despatchlab combines classic same day courier, domestics and international express delivery, with online marketplace integration, storage, fulfilment and delivery with national coverage, all in the same place.
Designed in house by a team led by Daniel Allin, our Chief Commercial Officer, it really is ground breaking in our industry. Dan says, 'It's all about giving you the very best logistics processes and carriage with ultimate control at your fingertips with a very simply user interface. despatchlab acts as your inventory manager, logistics manager and delivery driver all rolled into one.
'The intelligent routing engine optimises carrier choice based upon every element of your shipment information, such as, but not limited to; value of product, delivery location, weight and size. This makes it easy for you and your team to select the right carrier without needing an encyclopaedic memory or logistics experience – the system algorithms do it for you.
'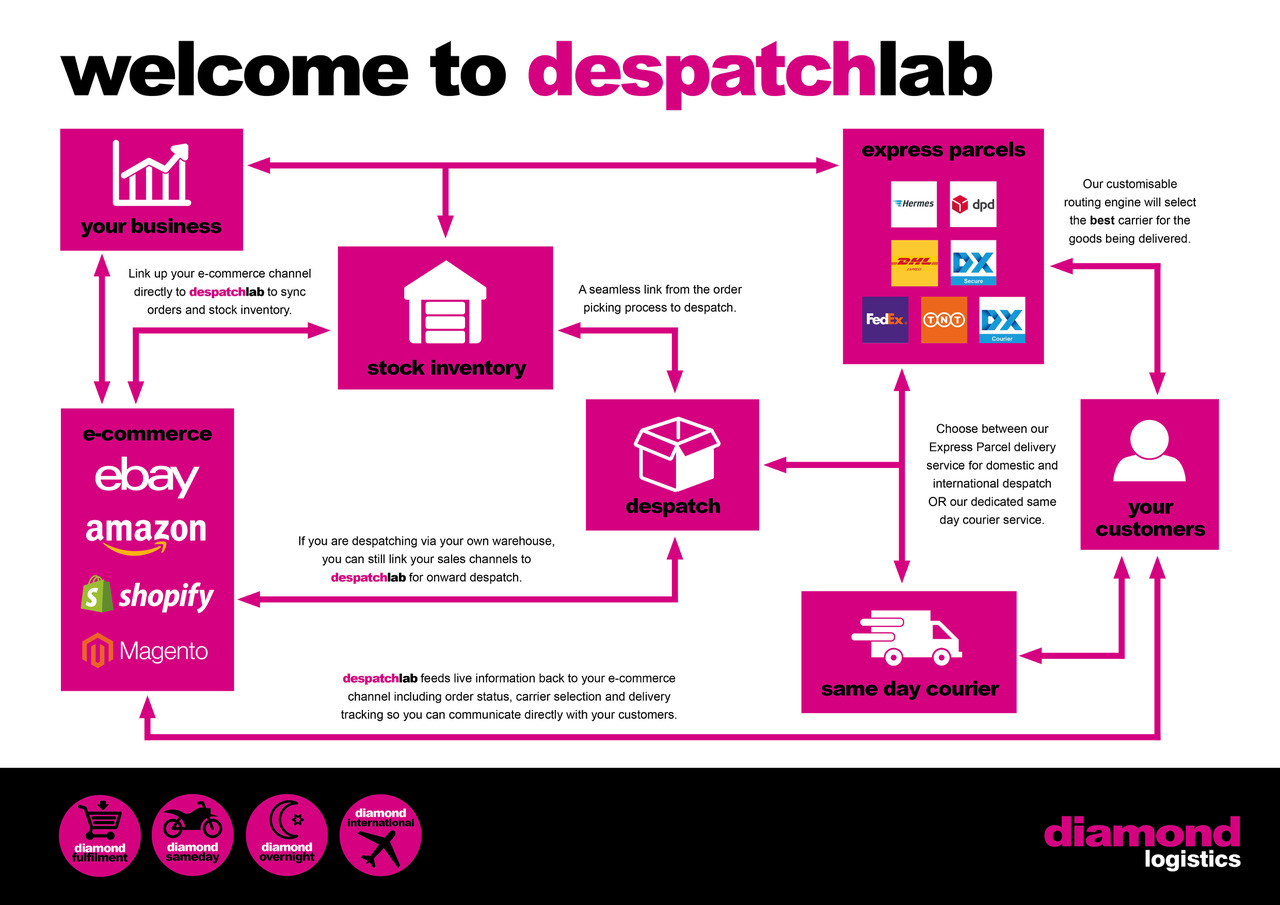 Transparency is the next major feature of despatchlab; allowing you to see exactly how much each shipment costs as and when you are booking, real-time tracking information on carriage and even stock inventory if you use our fulfilment services'.
What are the headline benefits from a user perspective? Our latest member to the team, Emma Whitaker shares her thoughts, 'I have previously worked with various businesses who use multi carriers and offer fulfilment so I am very familiar with our competitors systems, and, I have to say, when I saw despatchlab for the first time, I was impressed.
'A system that allows you to track all your fulfilment orders and view all your deliveries, that that doesn't cost thousands of pounds to setup and months of integration. It's one of our best USP's at diamondlogistics. As a sales professional being able to offer our SME customers the same systems that major distributors use to support their business with acceptable setup fees makes us stand out from the crowd. To date any customer who has seen the capability of despatchlab has agreed with me.
'It's a great tool and allows businesses to focus on what they need to do, knowing we have their fulfilment and deliveries covered. If at any point they want to know where an order is in the fulfilment/delivery process they can simply login and view all this information at a click of a button giving our customer the peace of mind to be able to focus on manufacturing and selling their products and leaving the rest to diamond. I think it's a diamond system.. sorry for the pun!'
The software as a service solution was developed from the ground up, and allows an unrivalled level of service to clients. It's an industry first, and there's nothing else like it. After investment in excess of £1m, despatchlab now represents a truly hassle-free and bespoke fulfilment and parcel management service. It confidently fills a gaping void in intelligent service provision that has hampered the industry for too long, and it's continually evolving to even better meet clients' needs by embracing the possibilities of artificial intelligence and predictive analytics.
If you'd like to find out just how game-changing despatchlab really is for you and your business, then get in touch today via our website HERE at info@diamondlogistics.co.uk or call on 0333 567 0391