eCommerce fulfilment is the storage and delivery of goods. It's a simple concept really, but the infrastructure behind it can be pretty sophisticated. It's easy to do if you know how.
Firstly, systems integrate with your marketplaces or websites as your goods are taken into the warehouse (which includes setting your delivery options). Then goods are put into stock, and inventory synchronised (so you get live 'in stock' across channels) and you are good to go.
Your orders automatically come in from your systems to the warehouse and you should have 100% transparency of goods – 'in stock', 'due to be picked' and 'packed', 'fulfilled orders', 'despatches', and 'your shipments out for delivery'.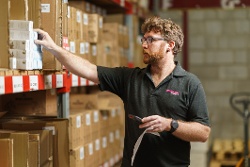 And then you can see what has been delivered – or if there's a problem – what has not.
It's a well-trodden process, which some logistics partners do better than others. The winning factors of a great fulfilment partnership is robust processes, people and technology, and that's what we deliver at Diamond.
Our people are your people, they're an extension of your team. With Diamond, you're assigned a client care team that you can 100% rely on. They're a name that you know at the end of the phone, or when you pop in to your local site to touch and see your products.
eCommerce fulfilment with Despatchlab
Diamond Logistics' technology is designed by fulfilment experts for eCommerce operations. Despatchlab is the bespoke software system which powers everything we do at Diamond Logistics. It's one of the reasons we do eCommerce fulfilment better than our competitors.
It was developed in house and it's our secret sauce. At Diamond, Despatchlab is how eCommerce fulfilment works, it's what helps our clients grow, and the reason they don't have to think about their fulfilment processes much – clients like Books that Matter.
The book subscription business outsourced its eCommerce Fulfilment to the Diamond Logistics Bournemouth team, powered by Despatchlab, back in 2019.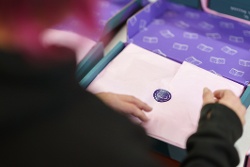 eFulfilment clients like Books that Matter don't have to worry about despatch, selecting a carrier, the picking process or warehouse management. That's done by Despatchlab. It streamlines the entire inventory order and despatch process, from goods to final mile delivery. From storage and fulfilment, international import and export by road, sea or air, to domestic express parcel solutions and urgent SameDay courier movements, it's all managed on one platform. (Read more about how Despatchlab supports Books that Matter in our Future of Retail report.)
The most important thing for our clients, and the Diamond Logistics team behind them, is transparency, which is achieved with Despatchlab.
For more information, please visit our eCommerce fulfilment page, or if you have any questions, maybe our eCommerce fulfilment FAQs will have the answer?
To find out more about how Despatchlab makes eCommerce fulfilment work and how it can support the growth of your eCommerce business, complete the below Contact form & our expert team will be in touch: