Kate Lester, founder and CEO of Diamond Logistics, reflects on the Suez Canal blockage and supply chain risk.
They say things come in threes don't they?
From a logistics and supply chain perspective, my top three this past year have been a late Brexit trade deal, the COVID-19 pandemic and the recent blockage on the Suez Canal. Three things which have raised logistics' profile to the general public, three things which have challenged supply chain professionals, three things which have forced operations directors to scrutinise their supply chain risk.
Supply chain directors have been muttering Mayday under their breath for the last 365 days at least. The Suez Canal is just the latest in this string of risky events.
What happened on the Suez Canal? Could it have been avoided? As reported in the New York Times, the name of the ship stuck en-route from China to Europe was the Ever Given, a 1,300-foot Japanese-owned container ship. This giant boat blocked the 120-mile waterway, the Suez Canal, and stopped the passage of 100s of vessels destined for Europe. It was freed on the 29th of March, hurrah.
So how can logistics operators mitigate these types of risk moving forward? There is a clear case for near-shoring for supply chain resilience post Covid-19, and the canal blockage compounds this.
In his blog entitled, Post Covid19 Supply Chain Preparation, Professor Richard Wilding puts forward the case for near shoring. " Is there a capability to procure in your local area or could it be developed? Look at the potential for collaborative competition (or "coopetition") as a means of building a more local supply chain."
According to fellow academic Professor Omira Khan, who wrote in the midst of the pandemic in 2020 in her blog Re-thinking supply chains: The impact of COVID-19, "Equally clear was that near-shoring, re-shoring, and localised distributed manufacturing seemed inevitable, overturning at a stroke over 20 years' growing reliance on off-shoring as a competitive supply chain strategy. And forget management practices such as Just in Time and lean manufacturing: suddenly, inventory-holding seemed eminently sensible…"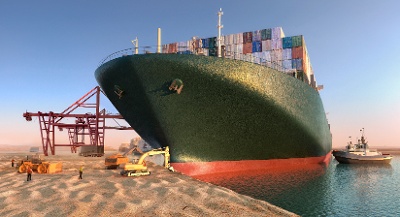 Supply chains as we know them are about to embark on their own epic journey, and it would seem, according to Omira, "supply chain risk management will receive even more senior management attention, with greater inventory holding, more dual-sourcing, and a move away from maximising economies of scale through centralised production to a more distributed—and therefore more resilient—business model."
Brexit delays, containership delays and the yet unknown future COVID-19 delays, are fuelling the case for UK storage.
Stocking locally in micro-fulfilment centres – especially if Europe is part of your supply chain – is a strong option right now.
At diamond, we'll be leaning on our despatchlab technology – which we designed ourselves – to manage risk, and to make smart changes as they occur. We don't expect our clients to ever need to mutter Mayday under their breath.
To find out more about UK storage and fulfilment options with Diamond Logistics complete the following form: