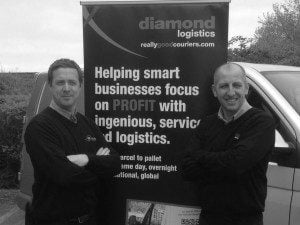 Diamond's national network is run by dedicated partners with many years of experience in the industry. We caught up with Dan O'Bryan and Alistair Harding from our newly established depot in Swindon to find out how they have found their experience of running a Diamond Logistics Network Partnership.
Why logistics?
We have been involved in the parcel industry since the late 1990s, and the aspect of being able to deliver any product has always intrigued us. We get a lot of satisfaction from knowing it's possible to resolve a person's transport headache by offering them a solution they may not have been aware as an option.
Why did you choose Diamond Logistics as a partnership opportunity?
As sub-contractors with a network of nearly 30 vehicles, ranging in size, offering a 24 hour per day operation we found we were providing a high-end service but the rates we were being paid did not reflect the reward we deserved. In December 2014, we picked up on a promotional email from Diamond Logistics outlining the partnership opportunities available, and from there we were sold on the idea of coming on board.
Fortunately, we work with people who don't just take things at face value. However, with every question we asked Kate or Dan, the more we wanted in. When it became apparent that we were not going to be pressured to carry out an unrealistic number of deliveries per vehicle per day and wouldn't be needing to supply vehicle support at our expense despite the unrealistic expectations put on drivers by the industry, we knew it was the right partnership opportunity. It also felt like one of those opportunities where the benefits are better the earlier you get in, because this concept is brilliant and it is only a matter of time before local SMEs 'click' and work out the obvious advantages of the business model i.e. let the National Carrier do the deliveries but let a logistics expert like Diamond, who cares about your freight, collect, and look after your requirements.
What can you offer businesses in your area?
We offer the old-style customer-focused service that was essential part of the operation when I first came into the industry. I see a lot of the existing values we had then being endorsed by Diamond, backed up by a far superior IT platform which adds value to the whole logistics package that each client receives.
What have you learned since joining the network?
The main thing we've learned is that very few customers are getting the service they were expecting when they originally signed up with their National Carrier. However, they seem resigned to a level of acceptance and convince themselves there isn't an alternative. When we make a presentation of service, we often hear something along the lines of "We've heard this all before, reps come in, promise the world and then we find…". This is our opportunity to change the face of the industry and – at the risk of sounding like a politician – get back to the core values of this customer-focused service industry.
What are your goals for 2015?
We want to be that £1m per year depot, and I would only be doing the SMEs of Swindon a disservice by not offering them the opportunity to sign up to Diamond Logistics, Swindon. We will take away the headache they have of dealing with major national network providers which regard you as simply another account number.
Are you a logistics professional interested in Diamond Network Partnership and looking for a new challenge in the logistics industry? Find out about our Diamond Network Partnership opportunities here.