How order fulfilment works
Fulfilment for us is easy because we've been doing it for 30 years – but for our clients – particularly start ups and scale ups it is very new. So here is our guide to order fulfilment outsourcing and how your goods go from suppliers to end users. 
We've thrown in a few illustrations which describe better than words how the process works, how the technology works and what components you need for successful fulfilment – plus a handy checklist to help you select your next fulfilment partner. 
The process
Our process is straight forward. Goods are collected from your supplier or they arrange delivery, and sent to one of our 30 service centres around the UK. We request a pre alert for delivery to make sure we have the team available to put your goods straight into stock. This includes uploading stock onto our Warehouse Management System (WMS) within Despatchlab, our logistics management platform, and putting the goods into the physical location.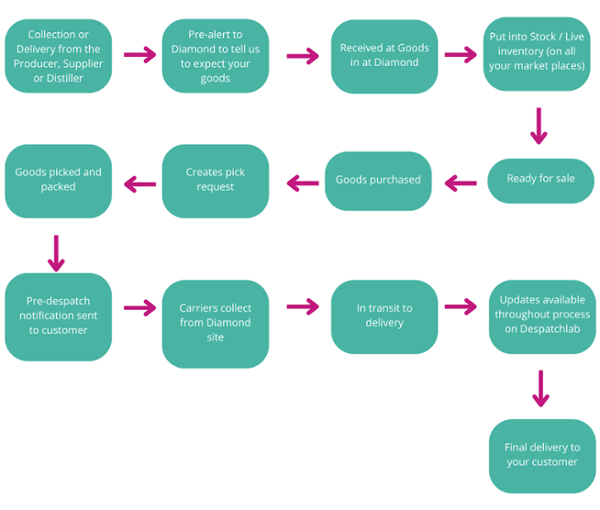 Once it's uploaded to our WMS, you are ready to accept orders. Our system automatically synchs all stock, whether you use one or multiple marketplaces so you can make sure that your customers never ordered goods that you don't have waiting on the shelves, if you wish.  
As soon as customers order your goods online, an automatic pick request comes through to one of our fulfilment centre team and your goods are picked that day for dispatch by 5:00PM. They are then packaged as per your CWI (Client Work Instructions). This means the standard delivery time from pick to receipt by your customer is 24 hours. Despite the fact that some of our clients only pay for a 48 hour service we like to exceed client expectations! 
Once ready for collection, the goods are assigned to one of the major carrier networks such as DPD, Yodel or DHL. Your customer receives a pre dispatch notification and tracking details and your goods are on their way! 
Our service centre team is there to manage the exceptions. This means that if an address is questionable, the addressee has gone away or a carrier is delayed we mitigate the outcome of those delays to your customer and can solve 95% of all delivery exceptions without having to refer to yourself. This really is complete outsourced logistics management, leaving you free to focus on the other aspects that are important in your business.  
Technology efficiency, full visibility
The important thing to know is that all of this is open and transparent to you on a minute by minute basis via your access to Despatchlab. This will become your logistics management platform as much as it is ours and any of our network partners. Of course, you can speak to us any time and visit the warehouse, but with a simple click of a button, you can see everything, giving you the assurance that your diamond team are doing exactly what they need to do in order to deliver and meet all expectations. 
It really is the smart technology that makes logistics easy. It's user centric for both you and us, and it gives you reassurance every second of every day that your Diamond team and your deliveries are going to plan. We'll always be transparent so you will always see if there are problems and what's being done to sort them out.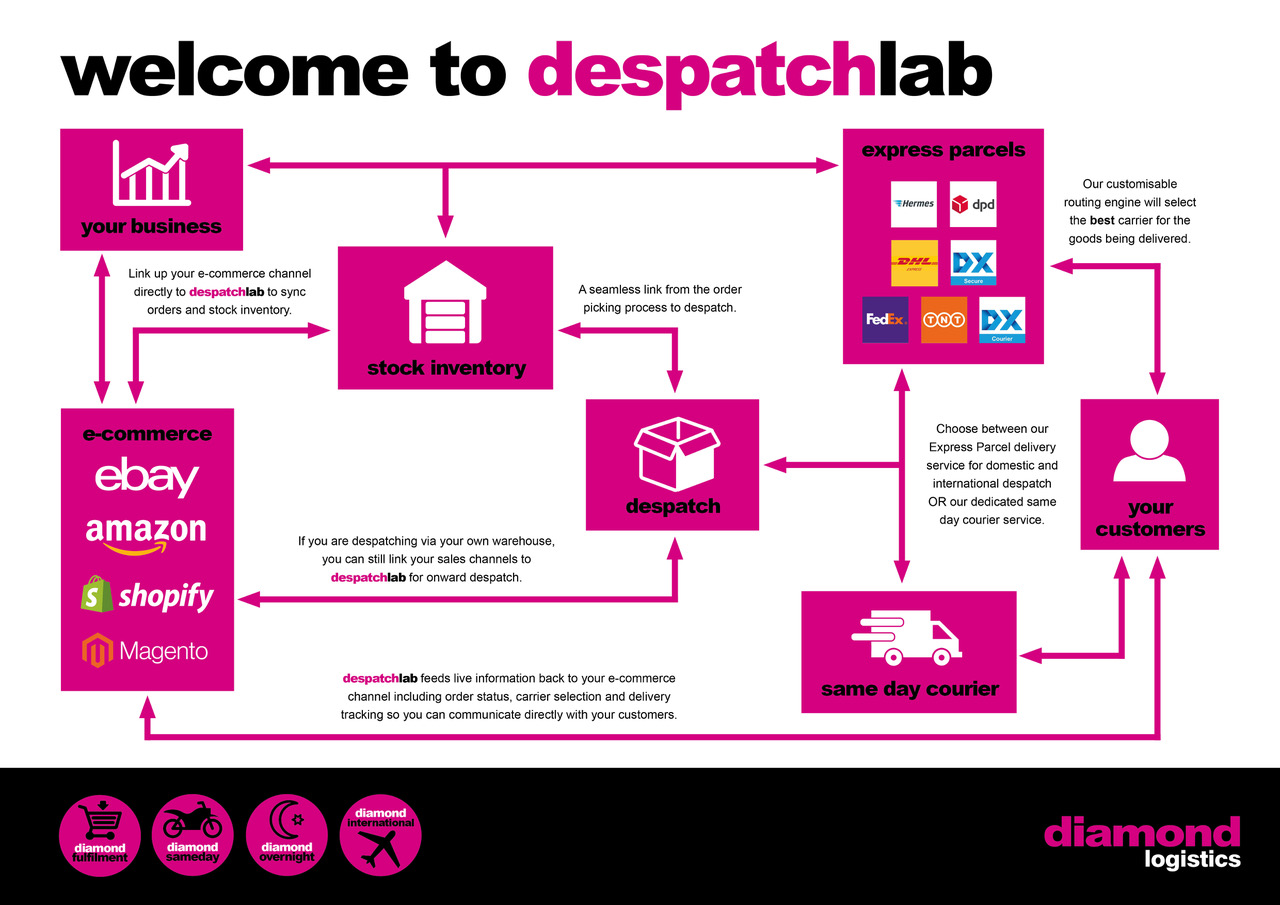 Fulfilment partner checklist
Finally, do check our fulfilment partner checklist below. Please use this when you choose your logistics partner even if it isn't us! Now that you have an idea of our process, get them to run through theirs to check they align with your expectations.  
It's important that the process is straight forward and transparent, yet backed by smart technology that works seamlessly, because your business relies on these deliveries happening. We've invested millions of pounds in making sure Despatchlab works and is correct in terms of our client experience and your customer experience. Nowadays stock held on an excel spreadsheet in a dusty warehouse it just won't do. 
Checklist
Geographical location(s) to suit your current business needs and growth plans

Specialist fulfilment
Easy to use technology  
A system that integrates all your marketplaces with stock synchronisation
Multiple carrier functionality
Warehouse management and carrier management in one easy to use platform
Proactive exception management processes in place
Plain English SLA and CWI for all work
Experience
Reputation

 
I hope this illustrates clearly how simple order fulfilment can be. If you've got any questions don't hesitate to get in touch. Our team can be contacted on 0333 567 5888. Alternatively, email us at sales@diamondlogistics.co.uk or complete our contact form below.