Newtown Powys family business – 2nd Generation Logistics, a subsidiary of Station Couriers – has joined the diamondlogistics network to grow its eCommerce client base and serve customers in the mid-Wales area.
The local business, operated by a parent and daughter team, has grown from a taxi service – Station Taxis – to a successful carrier business, which acquired its own 40,000 sq ft service centre in 2016. Now, having outgrown that facility, the operation is set to extend and expand as a diamond Network Partner.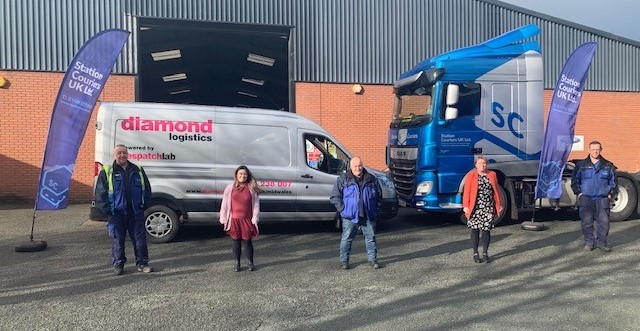 Despite the challenges some businesses are facing due to Brexit complications and COVID-19 restrictions, logistics remains a vibrant and critical service.
Company founder Chris Woolnough says: "Station Couriers (UK) originally started as Country Cabs – a local taxi firm. But we found we were getting more and more work for parcels/pallets. We launched Station Couriers in 2002.
"Our first unit was on Mochdre Industrial Estate which was 745 sq ft. We started with one lorry and two vans. Since then the business has gone from strength to strength. In late 2016, we purchased our 40,000 sq ft unit.
"Now, by joining diamond, we will have access to a new channel (fulfilment) and with the backing of their expertise, grow our business further."
diamondlogistics has been supporting traditional carrier business models to pivot on-line and support eCommerce businesses to scale-up. The diamond operation is well positioned to navigate its way through the complications of Brexit, which its Network Partners will receive expert advice and support on.
diamond's founder and CEO, Kate Lester, welcomes the new team, "It's great to see diamond establishing a foothold in mid-Wales and we look forward to supporting Chris, Alison, Julie and Sian whilst they support businesses local to them. We'd also like to welcome the rest of the team; Jamie Poston, Gary Brian, Eddie Bennett and Wyn Butler."
To find out more about how diamond Mid Wales can assist your business, call the team on 01686 238007 or 01743 830321, or email at midwales@diamondlogistics.co.uk
If you are a sameday logistics business looking to diversify in the world of Fulfilment, UK & International Multicarrier express parcels, get in touch today at Eve.Terry@diamondlogistics.co.uk