Oxfordshire-based courier – Darcica Logistics – has joined the Diamond Logistics network to grow its eCommerce client base and serve customers in the Oxfordshire and Buckinghamshire area.
The local business, formed mid-pandemic by Oxfordshire Managing Director Anthony Tattersall, has grown rapidly since launch. With a background in transport management for private waste companies, logistics was a natural step for him.
"Back in the early part of the COVID-19 pandemic my brother approached me about a programme Amazon was running for people to start-up their own business and become a delivery partner. Within four weeks I had applied, was interviewed and accepted onto the programme. We set up the company and got started in September 2020."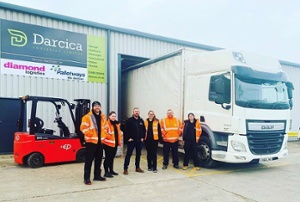 Anthony – alongside brother Neil – now runs 40 routes daily for Amazon and operates a 15,000 sq ft Service Centre.
"This feels like the right time to start our partnership with Diamond Logistics. We're also a new member of the Palletways network."
Darcica Logistics is now set to extend and expand further as a Diamond Logistics Network Partner.
Diamond Logistics has been supporting traditional carrier business models to pivot on-line and support eCommerce businesses to scale-up. The Diamond operation is well positioned to navigate its way through the complications of Brexit, which its Network Partners will receive expert advice and support on.
Diamond's founder and CEO, Kate Lester, welcomes the new team. "We look forward to supporting this family operation whilst they support businesses local to them."
"Diamond is perfectly positioned to cater for a wide-ranging variety of logistics needs – all from one local point of contact." Adds Kate. "It's all managed on their one-stop logistics platform, Despatchlab. It gives our customers the latest technology and services twinned with owner managed local centres. Exactly the kind of logistics partner that a modern business needs to grow."
Contact Diamond Logistics Bicester
Address: Unit 9 Launton Business Centre, Murdock Road, Bicester, OX26 4PP
Email: bicester@diamondlogistics.co.uk
Phone: 01869 393101
If you want to grow your courier business, Diamond Logistics might be the right fit for you too. To have a conversation with one of our experienced team members, complete the following form: