It really is up to you. Activity equals results and as such, the more work you put in, the bigger the reward and the faster those rewards will come.
Following our proven methodology, which has been created through many years of experience, you can achieve sales revenues in excess of £1m within the first three years, with a gross margin of 50%+. But it all depends on your commitment level and existing infrastructure. We have the capacity to scale as slowly or as quickly as you wish to.
We like the fact we have pre-existing logistics businesses joining the network, but if you are consumed with the existing business and not fully committed to your new Diamond direction, it will take longer to reach that breakeven level.
Diamond Logistics Bristol has been fully committed from the start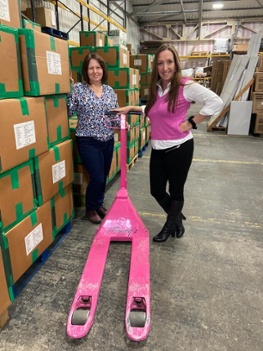 Diamond Logistics Bristol became a Network Partner in 2016. Here, Amanda Watkins-Smith – Managing Director at the company – shares some of the benefits of her Network Partner investment.
"Bringing fulfilment, parcel delivery and SameDay courier under one roof has been really important. It's not only stabilised seasonal revenues with the spread of services but has added growth streams as the market pivots to meet eCommerce demand. And this diversity has not just kept us going, it's facilitated exceptional growth in the pandemic."
"We've supported the scale up of multiple online stores from start-up to multi-million-pound businesses. Helping them to scale helps us to scale. Shared Success is a key Diamond value and this kind of partnership exemplifies that."
"Over the last few years our growth has come from fulfilment – a core service addition that the Diamond partnership brought to our service profile and on in which we've seen further demand during the pandemic. We've gone from 5,000 sq ft up to 24,000 sq ft and managed to stay on the same side of Bristol." (Read the full interview with Amanda here).
If you want to expand your courier business, and think that Diamond might be the right investment partner for you, call 0333 567 5888, email us at npsales@diamondlogistics.co.uk or complete the below Contact form discuss our current opportunities: