It's been a few days since this year's diamond AGM and we are still laughing about the team building exercises and the fun we had during the day and late into the night.
This year we focused our day event on the theme of collaboration. With Network Partners, new and old, joining us for the day it was important for all our team, Network Partners and preferred suppliers to learn a little bit about each other and how we can help and support each other as we grow – one of the many reasons our partners join the diamond network. It can be lonely on your own, so having someone to be able to call and know that they will be able to help you is so important.
diamond launched its 2020 Vision – looking at our plans for the next 3-5 years, exciting development in our logistics platform, despatchlab and focusing on scaling our network partners – heading towards our final goal of 60-80 UK sites.
The team building exercises in the afternoon were really enlightening. We focused on team leadership styles, thinking outside the box and learning how to communicate effectively – it is needless to say that there was some very different approaches to the tasks! We all managed to take learnings away with us including new understanding about ourselves, our team or what can be improved on.
As one of our core values is Shared Success© we started our evening off with our Annual Awards celebrating the great team and network that we have. As with every year we have a theme for our Awards evening and this year is no different with the theme being colours of the rainbow – celebrating and embracing our continued commitment to diversity, equality and inclusion here at diamond.
A big thank you has to go out to Macfarlane Packaging and Spencer Hayes insurance group for sponsoring our event and awards.
This years after dozens of nominations and one of the closest results in years we are celebrating 6 diamond Network Award winners.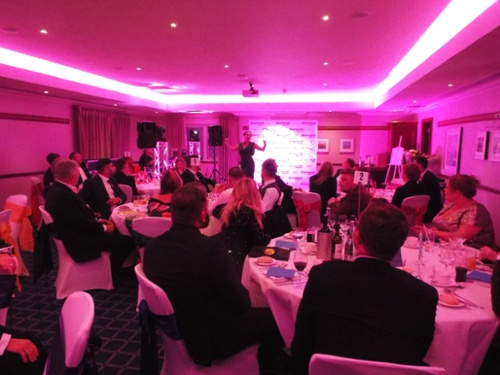 Network Team Star Sponsored by MacFarlane Packaging
The first Award goes to the Network Team Star – the upholder of Values, the conveyor of great advice, the assessor of new network partners, the upholder of diamondstandards, the mate on the other end of the phone. It's a peer nominated award, nominated by your fellow network members so its one to win with a real sense of team pride.
This person has been one of our longest standing Network Partners. They have been with us since almost the beginning and Kate is still sent regularly effusive client emails about the team delivery performance from grateful clients and great feedback from other network members, especially the newbies who say this person is beyond helpful. A true advocate of Shared Success© and a true diamond.
This years Network Team Star goes to: Julian Westwood (Birmingham)
diamond Team Star Sponsored by Spencer Hayes Group
This award goes to the internally nominated team member at diamond HQ who really has gone above and beyond the call of duty – in what has been a busy year. Systems change, team changes and yet within all of that a continued natural achievement of Objectives and Key Results as lain out in the 2019 plan for the department. This person has particularly come under the acknowledgement and praise for having the attitude we wish to foster in our new tier of management trainees – with a yes mind set, the willingness to work outside hours to get work done, learning quickly and developing personally and professionally – as well as having a full and active home life. A real diamond is made under enormous pressure and this person has really stepped up in a year of real results in their department.
The diamond Team Star goes to: Nicola Lamprecht
Department of the Year Sponsored by Spencer Hayes Group
diamond is a team sport. It is difficult to pick out individuals when so often the performance of the individual is supported very much by the power of the collective.
This award goes to the Department in diamond Central Support who have really delivered this year. And it's been a challenging year all round – in terms of volume of work, projects to be landed and sheer volume. This is a 50/50 network and HQ nominated award so a nice recognition by your peers and the network you serve.
It's with great pleasure Department of the Year goes to: Network Support
Women in Logistics Sponsor by Macfarlane Packaging
Logistics is an industry with appalling statistics in terms of employment numbers, gender parity and the wage gap – in almost every company in the industry. Except, of course, diamond.
diamond has really focused in the last 5 years on supporting and encouraging particularly Women in Logistics and we are very proud to have made the finals in the IoC Awards to be held at the IoD on London on Tuesday so please everyone keep your fingers crossed. One of our methods of doing so has been to support and encourage Women in our business via the Women in Logistics Award. It's tough – logistics can be brutal – and previous winners of this award have had to show true mettle. This person has jumped in feet first, has been quick to rise to board level via promotion and has elevated our network from good to great.
It's with great pleasure the 2019 award for Women in Logistics goes to: Natalie Wainwright
Now – here's the big two.
Top Growth Network Partner Sponsored by Spencer Hayes Group
What is our network without sales success? Well, frankly nothing. It relies on all of our Network Partners to make their sales totals, to keep growing, to create volume because from that everything else stems. More support, better carrier rates, more investment in despatchlab – all relies on the network performing as it should. And this team have done a great job at contribution to this. And I believe this is the second year in a row – so very well done to the network member for sustaining the sales trajectory for a second year.
The award for Top Growth Network Partner goes to: Leeds
Network Partner of the Year Sponsored by Macfarlane Packaging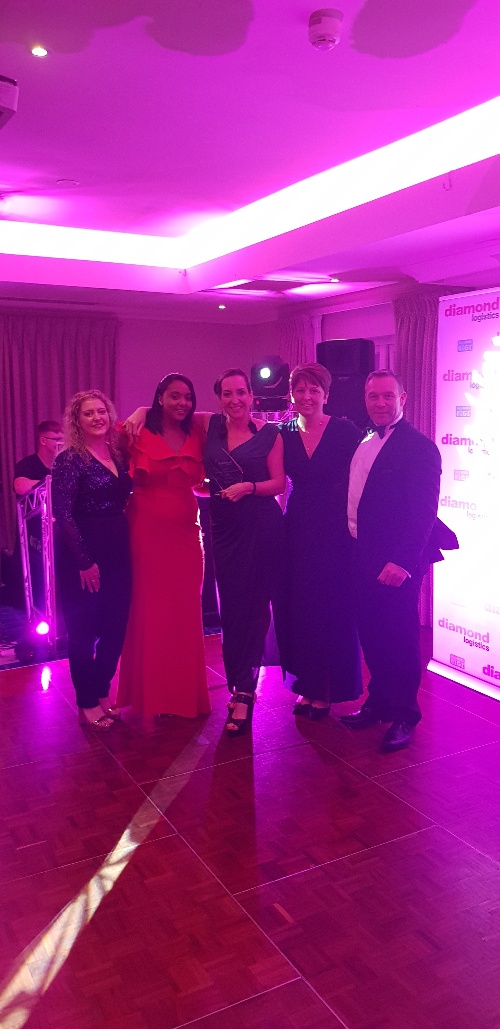 Frankly this award is the one you need to aspire to. Not only is this about making your sales. It's about; exemplary service, maintaining diamond values, going over and above on behalf of your clients, supporting social responsibility in your local community, subscribing to our environmental policies, supporting and nurturing new network members, showcasing what we do. Quite simply put it's a HUGE accolade to get this award.
This network member has educated themselves, taken on board tough feedback, delivered results, come back from challenges, overcome team problems, presented and supported the team locally and nationally. All this plus vetting new network members, showcasing our services and also helping out fellow Network Partners by sharing what they have learnt – with a real sense of diamond values, mission and purpose.
They exemplify our values, winning Values champions numerous times, always Sharing Success, being a great company to work with trust and belong to and the core one – being a diamond Network Partner who delivers. And they do that all day, every day.
Their clients love them, we love them and it's great to announce Mandy, Daren and team Bristol as a multi award winning Network Partner and this years Network Partner of the Year 2019.
If you would like to be the next Network Partner of the Year then click here to find out more about joining the diamondnetwork.