The initial licence fee is just £15,000 + VAT, which secures your exclusive geographical territory for up to 10 years. This exclusivity ensures you are the only Diamond Logistics Network Partner offering our specific services in that region. In addition, you will need to secure a trading premises in the form of a warehouse/service centre upwards of 5,000 sq ft.
We may require you to think about the resources you will need across your business functions to create the foundations for consistent growth. Please note: We also expect our Network Partners to demonstrate the same values as Diamond. If our cultures don't fit, it's not a match.
A small ongoing fee covers invoicing, invoicing discounts, management of carriers, sales support, technical support and customer service support. And this support comes from real people not a faceless online system.
Is it worth it?
Yes! A Diamond partnership is designed to improve existing operations, bring new technologies and secure great input rates with major carriers. And above all else, it's about being part of a bold, ambitious national network.
With Diamond's support, new courier partners are set to scale-up their business and increase turnover with great buying rates with all the major carriers, and harness the benefits of its powerful Despatchlab technology.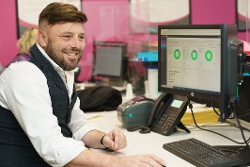 Daniel Allin, Chief Product and Innovation Officer, who has spearheaded the latest development phase of the nationwide network, says, "We've focused on recruiting and training a skilled network of partners around the UK, ensuring we have cutting edge software to adapt to the changing needs of the market."
With repeat customers centrally administered by Diamond Logistics, Network Partners just need to focus on sales, operations and the all-important growth.
Diamond will help its new partners launch, manage and operate a successful business, providing training, technology and its own homepage.
To become one of our skilled network partners for a reasonable price and long-term business, complete the below Contact form to discuss our current opportunities: