Join the fastest growing UK Network for Courier businesses
News from Diamond HQ: we are adding to our network with postcode exclusive locations. And we want you to be part of it.
This week latest offers went out to Gloucester and Solihull. Welcome!
In the last six months we've added:
Coventry (launched)
Northampton (launches Jan 2020)
Wolverhampton (launched)
Tunbridge Wells (launched)
Newport (launched)
Reading (launches Jan 2020)
Slough (launches Jan 2020)
Twickenham (launches Jan 2020)
Walsall (launched)
There's plenty of opportunity as the map below shows HOWEVER launch slots are very limited in 2020. January is FULL, February is FULL. We are taking bookings for March now. And the earlier in the year you launch the better so it's important to act NOW.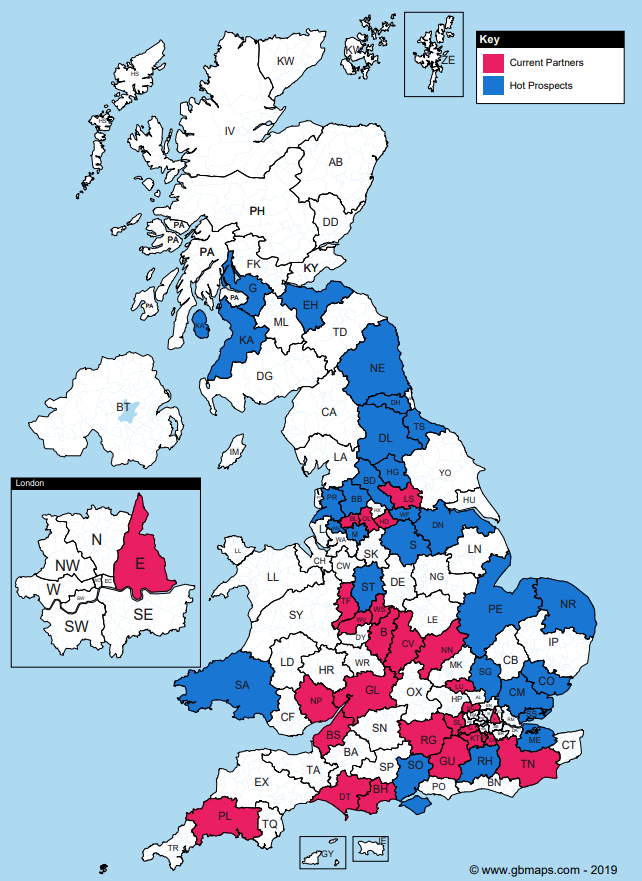 What do Diamond Logistics Network Partners gain?
1. You retain your own autonomy – just add the Diamond services to your portfolio
Domestic
International
Fulfilment
2. Access to despatchlab – the multi million pound online despatch and fulfilment management solution
3. Become part of the fastest growing network in the UK
4. All with low capital outlay
Hear from our Partners
Watch a short video from our Network Partners and see what they have to say about it?
https://www.youtube.com/watch?v=5oidGEHrATg
If your postcode is still available, it's time to get in touch.
We are looking to grow the network ambitiously over the next year to enable national provision of services to the SME market throughout the UK via our one stop logistics services and platform, Despatchlab.
Growing the Logistics Network
Diamond will have a site within 45 minutes of any major population density in the UK – providing a network for fulfilment and delivery around the UK and beyond. It's a great opportunity for logistics company owners to add new services to their existing courier business, ideal for an APC, XDP member or a Amazon Delivery Service Provider.
And when the network is established, there will be access to multiple national opportunities too.
For our clients it provides an owner led solution for your local fulfilment and delivery requirements. We firmly believe our Network Partnership delivers local service second to none – it combines the best of both worlds – local ownership and personal relationships, with a state of the art technology platform and carrier resource to fulfil all your local requirements.
Contact Eve Terry or Daniel Allin today.
Eve.terry@diamondlogistics.co.uk