As we approach the beloved Easter holidays, many of us are looking forward to dressing up and celebrating with our loved ones. And what better way to do so than by updating your child's wardrobe with some new and trendy spring inspired outfits and accessories. In this post, we'll introduce you to some of our top childrenswear fulfilment clients that you need to know for this spring season. We've carefully selected these clients based on their unique styles, high-quality products, and excellent customer service. So, let's dive in and discover some amazing options for your child's Easter wardrobe!
There can be many reasons as to why you would update your child's seasonal wardrobe, but the main reason is for comfort and practicality. As the weather changes, it's important to dress your child appropriately to keep them comfortable and protected from the elements. A seasonal wardrobe update can ensure your child's clothes are practical and comfortable for the current weather conditions. Now, when it comes to finding the perfect Easter wardrobe update for your child, our childrenswear fulfilment clients can make the process a breeze. Our clients are experts in childrenswear and have a vast array of products to choose from, including Easter-themed clothing and accessories. They prioritise high-quality materials, trendy styles, and comfortable fits to ensure your child looks and feels their best. Additionally, our clients offer excellent customer service, ensuring a smooth and enjoyable shopping experience for you and your child. So, whether you're looking for a cute Easter dress or a fun accessory, here are some of our amazing childrenswear fulfilment clients:
Little Prince London
Little Prince London is a small family run business with an aim to help other parents find high quality classic, comfortable and affordable clothing for their boys that's free of motifs and prints. The business launched in 2019 after owner Alice spent long days and nights looking for clothes for her little boy that were stylish and elegant. She found there were rails and rails of stylishly designed outfits for girls, but the boys had been overlooked. Alice recognised that not all parents appreciated the tractor and dinosaur print clothing, so decided to create her own line of sweatshirts and ribbed leggings made from high quality cotton. Little Prince offers next day and international delivery with easy returns and exchange for all of their customers.
A key piece we have cherry picked from their line is their nautical themed cotton sweatshirt in a Breton Stripe. This sweatshirt is so versatile, and the quality means it will last for years becoming a staple in your children's wardrobe and a hand-me-down for generations to come.
Little Prince London – Cotton Sweatshirt – Breton Stripe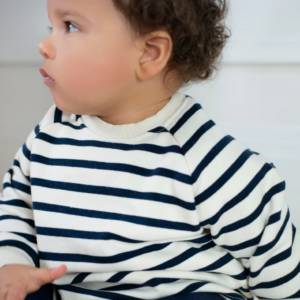 The reviews speak for themselves:
"Love the packaging, love the style & my grandson will look fabulous in it. Very happy with my purchase, THANK YOU." Dorothy3 Vaines
Blossom & Bear
Blossom & Bear was set up 5 years by Sarah, a young mother to small baby who needed a creative outlet whilst her new-born napped. She started out by designing aesthetically pleasing but functional teething rings and necklaces that satisfied both the taste of the mother and the chewing needs of her infant. In 2019, Faith joined the team as she shared the same passion for illustration, colour and design as Sarah. Their mission is to design beautiful practical products for mothers and their families.
One of our favourite products from their collection is their BABY Luxury Gift Box Hamper. The hamper contains a variety of beautiful and useful products for a new mother, including a soft bamboo swaddle, luxury baby bath oil, crochet rattle, beechwood hairbrush and a luxury gift card for their online store.
Blossom & Bear – Baby Luxury Gift Box Hamper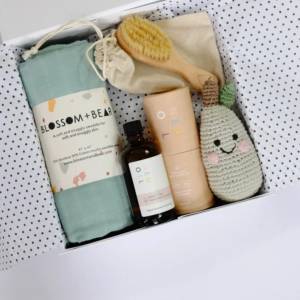 Existing customers love their products and here is what one of them had to say,
"This gift box was such a beautiful combo of well-made products. I love the box it comes in and the sweet tissue paper. Will definitely shop again!" Lisa K.
Avery Row
Avery Row are an independent British brand specialising in organic, natural textiles and accessories for you and your little ones. The brand was founded by Helen and Fiona, who met whilst living abroad in New York and shared a passion for fresh colours and soft geometric inspired prints. They decided to design a range of products that would showcase the palette of vibrant colours, prints and art that they had experienced on their travels. They used this inspiration to create stylish and playful clothing and accessories that would become firm favourites of the parents in the UK.
Avery Row have a selection of Easter themed items on the website, however, our favourite piece from their website has to be the bunny embossed towelling robe. It would make the perfect gift for a new parent or a little one lucky enough to have their birthday in April.
Avery Row – Children's Bunny Towelling Robe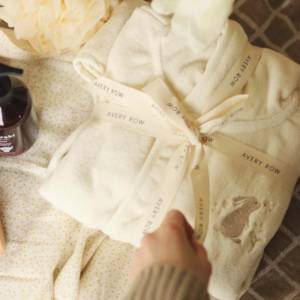 Customers have loved their brand for years and have this to say about their brand,
"Stunning products and wonderful customer service!!" Natalie Mobbs
Childrenswear Fulfilment
These amazing brands have been able to meet seasonal demand and cater to every customer, thanks to a great fulfilment partner. With the help of our fulfilment services, these clients have been able to provide excellent customer experiences, from a seamless ordering process to exceptional customer service. Additionally, our fulfilment services have helped improve the customer experience even further by ensuring that every order is packaged with care and delivered on time. By choosing our featured childrenswear fulfilment clients, you can rest assured that you're getting not only the best quality products but also an excellent shopping and delivery experience that exceeds your expectations. So, why wait? Visit our clients' websites and start updating your child's wardrobe for Easter today. Or if you are looking to outsource the fulfilment for your own childrenswear brand, give us a call on 0333 567 5888, email sales@diamondlogistics.co.uk or simple complete the form below.