despatch

lab
logistics technology supported European deliveries, d
espite t
he
recent Brexit and
French border
disruption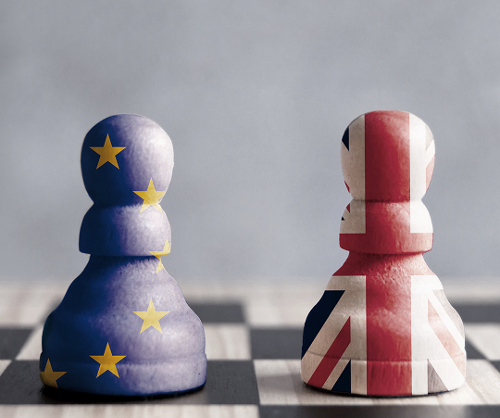 When some carriers were forced to suspend its European road services between mainland Europe and Great Britain, diamondlogistics' retail clients still managed to get their European deliveries delivered, as they had access to additional carriers and distribution options thanks to diamond's integrated despatchlab technology and national network.
"Our agility, and the flexibility of despatchlab allows us to mitigate the outcome for the end client in those sorts of circumstances," explains Daniel Allin, chief technology officer at diamondlogistics.
Brexit ready, with controls in place, despatchlab can also automatically produce the necessary commercial paperwork for goods entering and leaving the European Union. And, importantly, as one carrier switches off (as some did when the burden of delivery became to great/difficult) traffic can be seamlessly switched to another carrier ensuring no break in service for European deliveries. 'Don't get us wrong' said Daniel, 'It was not easy as we've still had customs challenges but at least in terms of logistics service we have had good risk mitigation strategies in place to support out clients'.
"despatchlab is a single system which allows customers to outsource their logistics. It means online retailers can concentrate on sourcing and selling products, and not worry about Brexit backstops or suspended carrier services."
"Our clients don't need to get involved in anything post-sale,' adds Allin. 'Our eCommerce clients don't worry about dispatch, selecting a carrier, the picking process or warehouse management. And they especially don't have to worry if their European deliveries are delivered. We do the worrying for them!'
"Christmas 2020 was tricky. One of our partners Hermes for example, experienced unprecedented volumes via its carrier networks during peak. But they managed to keep in contact with us and vice versa. At diamond and because of despatchlab, if a carrier in our network is experiencing disruption, we can communicate this to our eCommerce clients, and switch their distribution to a different carrier, so it doesn't stop their trade.'
"Larger companies showing suspension of services examples around Brexit offer good reasons for online retailers to choose a logistics operator which operates multiple carriers. We can make very simple changes to integration and routing via despatchlab, to switch off one channel if suspended or under too much pressure and turn on another, and it's instantaneous.'
Retailers, already in the midst of their busiest period, shouldn't have to start researching and sourcing new carriers for their European deliveries. They shouldn't have to worry about the consequences of putting on a Black Friday or Cyber Monday sale, or have to identify the resources themselves to be able to cope with the demand that ensues, that's our job."
To learn more reasons why despatchlab is making life easier for online retailers from one of our experienced team, call 0333 567 5888 or email sales@diamondlogistics.co.uk