At Diamond Logistics, celebrating women isn't a new thing. Our founder Kate Lester has as many bold women as bold men across her operation. Still, we love International Women's Day, so we reached out to one of our favourites – Amanda Watkins-Smith, Managing Director at Diamond Logistics Bristol – and asked her a few questions about her career in transport.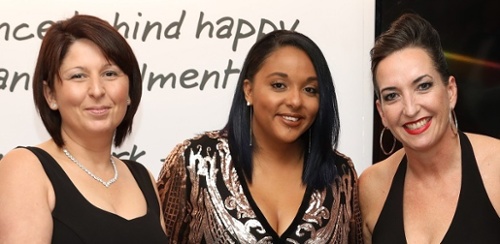 From left to right – diamondlogistics Bristol's Amanda Watkins-Smith, Simone Morrison & diamondlogistics Founder, Kate Lester
Mandy you didn't start your career in transport and logistics did you?
My career background is actually in the farming and veterinary profession. I trained as a veterinary nurse and headed up multiple practices during my career. My husband worked in transport. As I left nursing to have children, my focus switched to my husband's transport business, and that's when the business started to grow.
Logistics isn't that dissimilar to other industries, it's just about making things happen. My nursing career gave me transferable skills which have helped us succeed in transport and fulfilment.
Tell us more about the business.
My husband started working in transport in 1994 and we became Daws Transport in 2005. That's when we really started to grow. We were predominantly a same day bespoke transport business before we joined diamond in 2016 as a Network Partner, which not only enabled us to add overnight and internationals to the business but fulfilment too – which is where our business has really taken off.
How has that benefited your company?
Bringing fulfilment, parcel delivery and same day courier under one roof has been really important. It's not only stabilised seasonal revenues with the spread of services but has added growth streams as the market pivots to meet eCommerce demand. And this diversity has not just kept us going, it's facilitated exceptional growth in the pandemic.
Can you tell us about a favourite project?
I guess it's all about building businesses on diamond's one–stop logistics platform, despatchlab. We've supported the scale up of multiple online stores from a start–up to a multi-million-pound business. Helping them to scale helps us to scale. Shared Success is a key diamond value and this kind of partnership exemplifies that.
Tell us more about the new warehouse?
Over the last few years our growth has come from fulfilment – a core service addition that the diamond partnership brought to our service profile and on in which we've seen further demand during the pandemic. We've gone from 5,000sq ft up to 24,000 sq ft and managed to stay on the same side of Bristol. Despite lockdown restrictions, the whole team supported us in the move last month.
How else have you been affected by the pandemic? And Brexit?
It's a juggling act to be honest. We've put in a lot of extra hours, and really had to think on our feet. We have an incredible team. There are times when they have had to shield, or needed to step back to take care of the family, and the rest of the team have shown their full support. My husband and I couldn't be prouder of them.
With Brexit, we're finding that parcels are reaching their European destinations, but are taking longer than usual. We have also found that receiving goods into the UK has been more problematic, with lots of delays and split consignments.
We're also experiencing delays with stock coming in from China due to a shortage of shipping containers. Covid-19 and the lockdowns across the world have disturbed the normal flow of shipping containers back and forth across the world and now the containers are not where they should be. This has driven the price of shipping by container up dramatically. Hopefully all will be back on track soon.
Mandy as it's International Women's Day, do you want to celebrate any women in your team?
Simone Morrison. Simone is my right-hand woman. She has been with us for seven years and has just been promoted to Fulfilment Development Coordinator. Simone is invaluable!
Diamond Logistics is an inclusive employer, and we welcome (and want) even more female led Network Partners! If you're a courier business which would like to expand and grow as part of a network which celebrates and appreciates a female lead, fill out this form to speak to a member of our team.