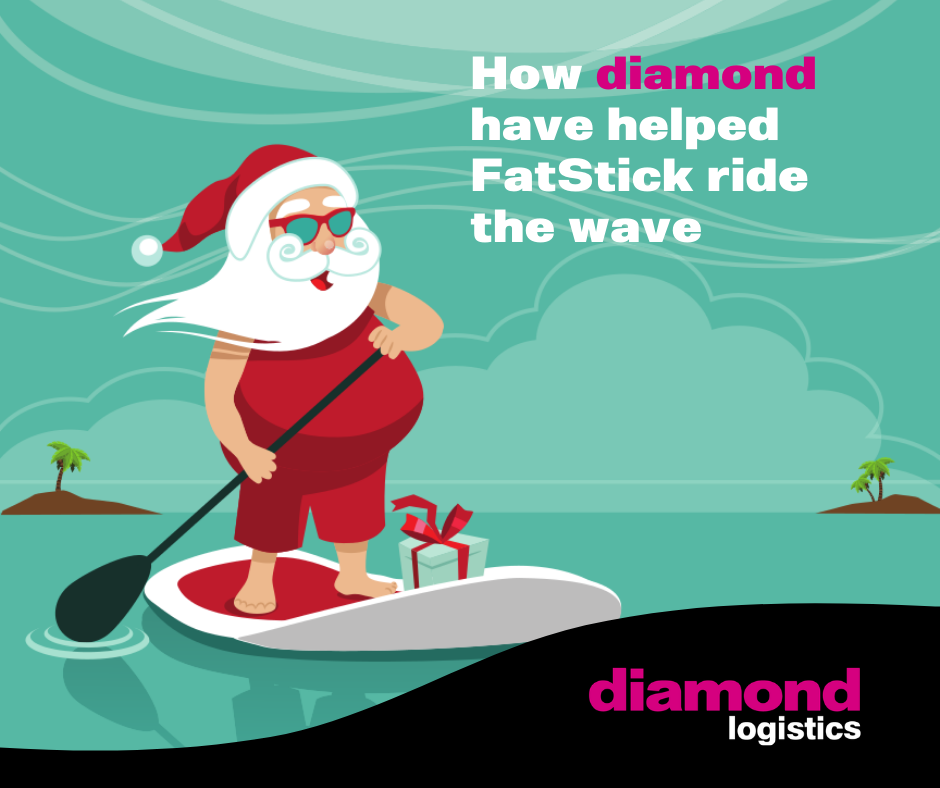 The Problem
FatStick is a British brand with a vision to provide top quality stand up paddleboards and surfboards at affordable prices. Started in 2012 in watersports enthusiast Reuben May's garage, the company made a big splash and has expanded rapidly, now offering a range of clothing and accessories.
As they grew, they quickly realised a garage just wasn't going to cut it anymore! FatStick was becoming stretched in terms of capacity and needed a logistics provider who they could not only trust to store their paddleboards, but also ship them quickly and efficiently. This way, they could focus on the important stuff – scaling their business!
The Solution
From very early on, FatStick enrolled the team at diamond to take care of their fulfilment and logistics, and never looked back.
With a logistics provider who looks after them like family, ensuring they have an extensive knowledge of their products, FatStick can relax knowing their requirements will be accommodated. It can be difficult to fulfil that last-minute order in the run up to Christmas – but, with multiple service centres around the UK, diamond's warehouses are close enough to them to allow a super-fast despatch and delivery. FatStick also have complete visibility of their entire last mile delivery process with the help of diamond's innovative despatchlab software, meaning they can keep their deliveries on track and their customers happy!
The British weather is anything but predictable, so as you might expect, FatStick has a varying demand for products throughout the year. Luckily for them, the team at diamond understand this, offering fully flexible warehouse space. This means FatStick are able to scale their space up or down depending on seasonal demand, giving them a cost efficient storage solution without any guesswork.
The Results
With diamond to look after the end-to-end process of pick, pack, despatch and delivery, FatStick are able to turn the tide and focus on the good stuff – scaling their business!
"diamond give us not just a great service, but peace of mind – and that is the most important thing to us and to our customers."
Christmas is undoubtedly a busy time for businesses, and despite the cold weather FatStick has been receiving a wave of paddleboard pre-orders in the run up to the festive season. For many e-commerce shops, this can be an extremely stressful period – not only might they worry about storing extra stock to meet the demand, but they also need to deliver their products on time to ensure their customers stay merry and bright. With diamond's experts to efficiently manage their entire fulfilment and logistics process, FatStick has complete peace of mind this Christmas, knowing their customers' biggest worry will be their tan lines (or lack thereof)!
If you're worried about how you might cope with the extra demand this festive season, don't panic! It's not too late for a Christmas miracle. Click below to book a call to learn how you can become part of the diamond family this year:
{{cta('0ac4790c-8d09-45af-8706-6f57f6ac62d9′,'justifycenter')}}