Our 30+ years of experience mean we have developed a proven formula that enables you to scale your logistics business through innovative client focused solutions. We teach you about the services and how to sell them, and provide the accompanying sales literature and process to boot.
The key to all of this is Despatchlab – our one-stop logistics platform. We have invested heavily in our technological solution, uniting operational and admin processes both managing and optimising your operations.
Finally, our group buying power means we have negotiated the best deals with our carefully selected carrier partners. Through our proven sales methodology and depth of support, you can scale and evolve a robust, future proof business.
Here are some of the reasons Network Partners joined us last year:
2nd Generation Logistics / Diamond Logistics Mid Wales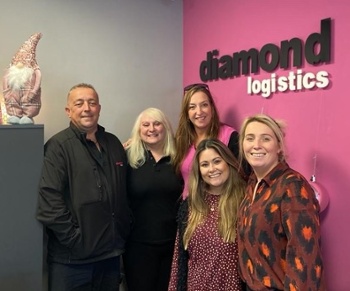 Newtown Powys family business – 2nd Generation Logistics, a subsidiary of Station Couriers – joined the Diamond Logistics network to grow its eCommerce client base and serve customers in the mid-Wales area.
Company founder Chris Woolnough said: "By joining Diamond, we will have access to a new channel (fulfilment) and with the backing of their expertise, grow our business further."
And as Sian Jenkins, Director, confirmed that the partnership for them is more than they expected at the end of their first year, "We have been overwhelmed by the support from Diamond and your team. I am so excited about our future with Diamond Logistics and can't wait to get our space filled!" By space they mean the 39,000sq ft ex-Laura Ashley site that they are already filling with fulfilment clients, enabled by their Diamond partnership.
Whether it's new technology you need or you're desperate for a slice of the eFulfilment action, call our team on 0333 567 5888 today or complete the below form to discuss your options with the Diamond team: