In addition to our Home Service Centres in Guildford & Bournemouth, diamond logistics have a nationwide network of logistic partners who decided to join Team diamond to diversify into the world of Overnight Deliveries, Multi Carrier logistics & Fulfilment.
Maybe you are a Same Day Delivery company looking to diversify & tap into a further revenue stream?
We could tell you why we think everyone should join the diamond family as a Network Partner but instead we will let the Network Partners tell you themselves. Today we speak with Ben Soames of our diamondlogistics Luton & Watford team in our diamond Network Partner Profile Q & A:
Full Name: Ben Soames
Company Name: Silver Lining Couriers Ltd
Network Partner Location: Luton & Watford
Service Centre Address: Unit 4 Bay Close, Progress Way, Luton, LU4 9UP
Originally from: South Africa
Family: Wife and also a brother who lives in UK with his family and is also my business partner
Children: 3 Boys Daniel, Nathan & Harrison. Dan & Nathan work in the business
Interests: Most sport, with a preference for Rugby, cricket, boxing and football
When you were a child, what did you want to be when you grew up: Professional cricketer
How did you get into logistics:
I started as a merchandising manager for Simba Quix an FMCG company in Johannesburg SA, planning out stock to stores and ensuring we had shelf fillers on site to push through the products.
Came to the UK in 1991 got a job as a load planner for Courage Breweries planning the drays out to pubs 6 days a week.
Moved to Britvic soft drinks as transport team leader.
Moved to Business Post as Regional Hub Manager promoted to General Manager for Midland and Wales……then became a franchisee!

Spent 6 years with SMA Worldwide as a franchisee.

Started Silver Lining Couriers with my brother in 2012.
Where did the Company Name come from: Every cloud has a silver lining, we are that in the logistics world!!
What year did you found your Company: 2012
What is your company story and history / growth to date: Started solely as a same day outfit but as always you spread your wings, we took on overnights etc, then the 2-Person work presented itself and we dived in and we let the courier business go a bit, just servicing our daily clients. At our peak we were sending out 25 crews per day, 12 routes on 7.5t vehicles but with that comes huge pressure to get and retain the 7.5t drivers and porters, along with the constant damage to said vehicles. We scaled down after a hectic end to 2018 to where we are now running 2 x 7.5t vehicles and 10 Luton vans, manageable and far less stress!! We did dip our toe into the pallet market and got a tad burnt…. We shall leave that there!!
After a lot of shifting our operating model we have settled on the best mix, sticking to what I know best, the courier market to include same day and 2-Person deliveries.
We now run anything from 8 – 12 crews per day, with an ever-growing same day and overnight and fulfilment base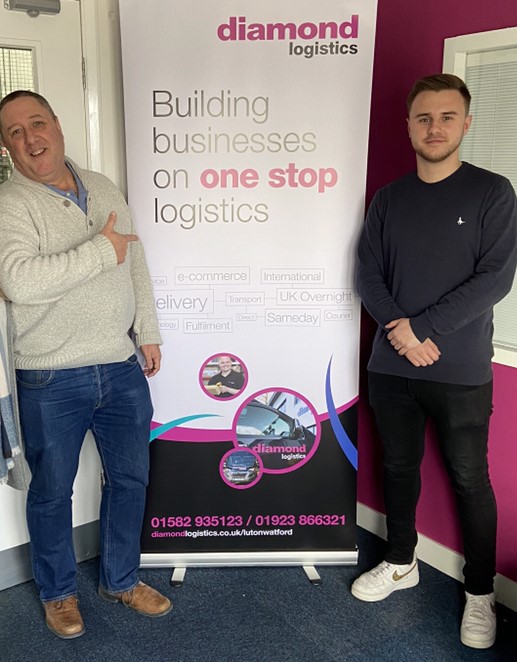 What do you enjoy about owning your own logistics business: I am the Ops / Commercial director looking after the operations, new business and client retention so having he freedom to chose what to do next & the right to service clients the old fashioned way……… personally!
What business sectors do your current clients come from: Movie and TV companies – we have 3 of them – printers, wholesalers, pharmaceuticals….to name a few!
Why did you decide to diversify now & what will / does your partnership with diamond mean to your business: Not really a diversification, more going back to my roots and my ultimate strength. diamondlogistics opens me up to wider client and carrier audience something that was needed to get back into the game.
What drew you to diamond: Dan's daily podcast on LinkedIn! Seriously it was that! I started talking to Dan about a potential 2-Person synergy between us about 3 years ago. I did not want to become a franchisee; my business is stand alone and didn't want to change that. Then the diamondlogistics model changed to Network Partners and we were in!
Anything else you want to add: So far so good!!
Ben and the Luton & Watford team can be contacted here or on 01582 935123 / 01923 866321