diamond is proud to support our front line workers by continuing to deliver. Nationwide we have been selected to support delivery of vital supplies to NHS staff, care workers, and primary care providers from seven of our UK fulfilment centres and supporting the logistics behind the testing, engaging multiple network partners around the UK.
diamond's network spans from Plymouth to Carlisle. The 20+ fulfilment centres provide same day, overnight and international delivery for traditional and online businesses. Its owner managed and run by local service providers who truly care so this opportunity to support care workers touched at the core of our key value, Shared Success ©. Its uniquely positioned to support this kind of urgent demand – medical supplies can be stored locally – and despatched very quickly to where they are needed most. Our warehouse management system means there is a live local inventory so supplies can be ordered online and efficiently delivered same day. Its unique.
Our network partners say its great to help, and with many of their traditional clients on shut down its been useful to have the additional work to keep their team in employment. Obviously safe working has been challenging with many fulfilment centres managing to step up to the challenge on a skeleton staff.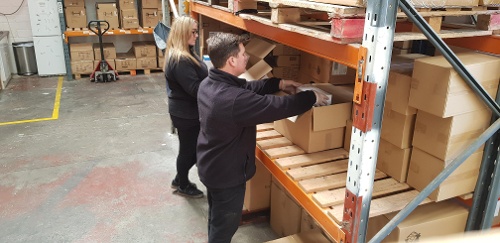 Ryan from Plymouth confirms, 'It's been pretty crazy down here. We are proud to be working with the NHS, doing our bit to help. It feels good to help them continue providing the vital services we are all accustomed to. It's important to everyone, the NHS and the public, and it's important to us'. As a family team it also helps efficient fulfilment as they are able to work more closely.
Hiten from Northampton agrees, 'We've despatched over 120 dedicated express vans across the country so far this week nationwide covering all areas of the UK & Ireland, all delivering urgent medical equipment and kit. We are proud and happy to be supporting our nation in a time of crisis'.
And the team at from Croydon are in one of the busiest parts of the country and their operation has been effectively 24/7 since the crisis hit. John from Croydon says, 'Initially when the crisis hit we saw a drop of over 75% of traditional same day drop off. Then HQ contacted us and we've been pretty flat out since then. James was sent 17 jobs to deliver by 9AM the next day UK wide at 9.45pm on Sunday night! We got them all done without any issues with 69 year old Jeff out till 2AM meeting drivers in London and getting them on their way. We are proud to be doing out bit for the national effort and will do what we can to help'