Welcome to this month's edition of 
Despatches

.

"I think back over the last 30 years it is quite incredible how much the logistics industry has changed. Once upon a time we were Diamond Despatch with a single motorcycle and an orange D reg Astra van called Jaffa, and we delivered as the couriers delivered in ancient Rome from A to B, albeit  marginally quicker. Now you look at our network of 30 warehouse's round the UK with over 50% of our revenue derived from online income, which by the way only five years ago it was only 5%, and the business has exponentially changed in 30 years.

Its one of the reasons I've been enthusiastic everyday about the business.

It's ever changing. It's always interesting. It's been at the forefront of great client experience simply because the entry level to the industry is quite low and therefore competition could be quite high initially. But as we enter blue water in terms of our future strategy i.e. local same day fulfilment and specialist fulfilment and focus on the owner managed businesses, the future for Diamond is bright.

From start up in 1992, to the 1996 re branding to Diamond Logistics – setting my ambitions as higher than that of a 'mere' courier company, I always wanted a national presence. It took me a while to get it primarily because I was a single mother of two children and they were my primary focus but when they finally went off to university I kicked down around 2011 diversifying into overnights and internationals as Daniel Allin joined the business. In 2013 we piloted the idea of our network partner model and sold our first one in 2014. Today we have reached 30 sites in time to celebrate our 30th birthday.  This has been enabled by the technology we started developing in 2016 as we realised that the off the shelf technology was not fit for purpose. So now, not only are we a logistics business we are a technology company.

We've grown tenfold in the last 10 years and we aim to grow tenfold again. The most important thing is recruiting like minded people, and that is like looking for needles in haystacks, but when you do find them, and this includes clients, team and network partners – it's a wonderous and beautiful thing! It's fundamentally focused on our number one value – Shared Success – it's all about partnerships. This has been a really interesting business model to sustain in the cut throat and hard core business that is logistics. I'm sure there's probably easier ways to make your money, but I have always enjoyed the egalitarian, the forthrightness, the simplicity and beauty of the completeness of our daily work.

You know when our job has been done well from the revenues from the happy customers from the complete deliveries. There is a beauty in its finiteness. And our Mission: how to build people's businesses on the back of our one stop logistics platform Despatchlab really sets us a cut above the rest of above a mere courier company. I've also always loved the fact that it's about building relationships have ongoing repeat business to in a service that lives and dies by its delivery. We really are the 5th emergency service.

As for the future if you think how much technology has shifted in the last 30 years, looking into the future is almost like the cartoon writers of the Jetson family in the 1950s thinking that's what our homes would look like now. Some bits of it would be so close to the truth like mobile technology and automatic cars, that it's almost spooky. And other details i.e. how we would live, what houses we live in, robots as home helpers and eating a pill instead of breakfast are so far away from reality it seems farcical.

If I think about logistics technology specifically, I remember the first time we were threatened by the fax in 1992 – thinking this would end all our deliveries if people could just fax a 50 page document! Then we had the development of email and ISDN. I sent my first email in 1996 and from the development of the power of the Internet  we started losing a lot of work that was now sent electronically. We stayed alive pivoting our services to support the  parts distribution to fix the hardware that was now running all our offices! In 1992 I remember writing out our invoices by hand!  And now we have a multi million pound automated end to end technology system so to say things have changed understates it somewhat!

In terms of the future I think the development in drone technology is incredibly interesting. I think this will enable remote areas to be delivered to far more quickly. I know that conversations with Civil Aviation authorities have meant that in areas of dense urban conurbations ait based deliveries wont work, but particularly for remote areas – Channel Islands, Scottish Highlands, rural communities – I think drones will represent a useful delivery means. I also think this will bring some challenges in terms of border control and the control of prohibited goods including people and drugs. So the government will have a hand slightly more full than managing parties at Number 10 when they're facing real border challenges.

There has to be further automation/technology on global logistics that is still pretty basic – same for UK warehouses and pallet networks. I cant tell you how many warehouses still run their sites on excel spreadsheets – just doesn't cut it in 2022.

As for Diamond's development for the future obviously as we finalise our initial development phases, we've got the app, further sales support for the network, and we launch Despatchlab as a white label software as a service to publishing, engineering and other logistics sectors this year.

Our network will continue to deliver locally and nationally with moves in to Europe I am sure at some point in the future. And we will be at the forefront of the move to same day fulfilment with out network of UK warehouses.

So exciting times for us and exciting times for you. Thanks for being part of the good ship Diamond. Long may we continue to sail on good seas."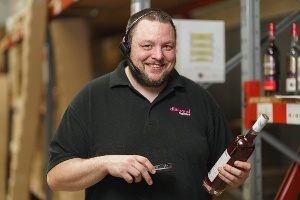 eCommerce Fulfilment can be a complicated process, we are here to make it easy for you. Read more
here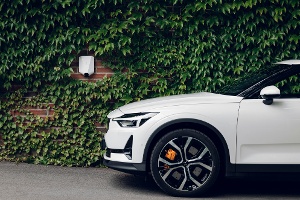 Easee's UK Delivery Manager Sunny Dhillon offers his top tips on what to look for when choosing a reliable logistics partner. Read more
here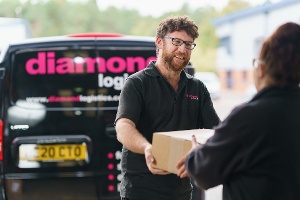 eBay, Amazon, Magento, Shopify, WooCommerce and Linnworks to name just a few!
Kate explains how her love for logistics is as strong as ever as she leads 
Diamond
 into its third decade of success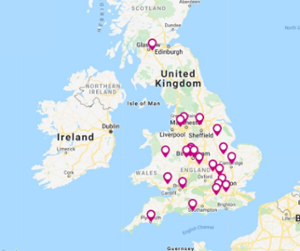 From Plymouth to Edinburgh, the choice is yours!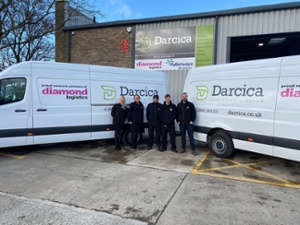 Diamond
 Logistics Bicester has launched!!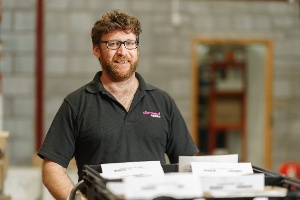 From warehousing and packaging through to distribution and delivery, 
Diamond
 have you covered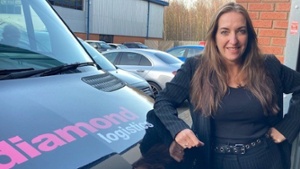 Kate discusses the cost implications faced by the logistics, haulage and retail sectors
Team
Diamond

Charity Events

National Diamond teams around the country are proud to take part in national fundraising events: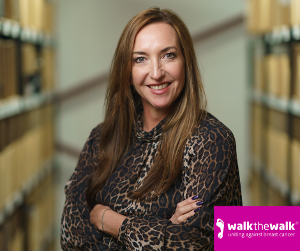 Diamond
 Founder & CEO Kate Lester is "Uniting Against Breast Cancer" for the 
Walk the Walk Worldwide
 Camino 100 in April 2022. Raising funds to ensure Walk the Walk can continue their amazing work making invaluable Emergency Grants to front line services and charities. Your support will be helping those that need it most. Support Kate 
here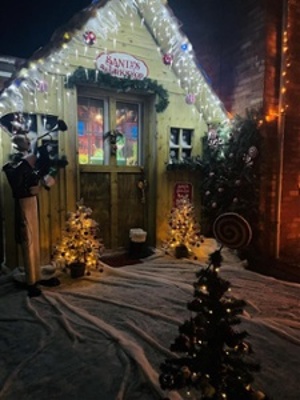 Diamond
 Mid Wales' Sian Jenkins created a magical Santa's Grotto & Winter Wonderland at her home during Christmas 2021 to raise funds for the charity 
Cherish
, with £175 raised in total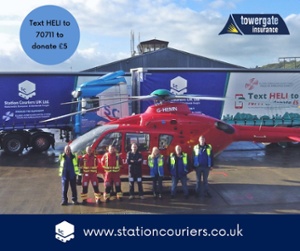 Diamond
 Logistics Mid Wales/Station Couriers team will be taking part in a charity World Record attempt lorry pull on 3rd April 2022 at Welshpool Airport. The team and members of Newtown Rugby Club will be attempting to pull the lorry, BY HAND, down the length of a runway in record time. All proceeds raised are going to the Wales Air Ambulance, who will also be in attendance on the day. Find out all about this event and how to donate 
here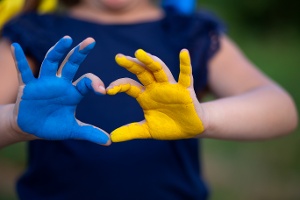 Diamond
 Logistics Plymouth are working with the Devon Ukraine Support Fund, offering a drop off service for donations to help those in need as a result of the conflict in Ukraine. To donate, get in touch with the charity 
here
Diamond

 Ukraine Crisis Guidance
Our thoughts over recent weeks have been with those people affected by the current events in Ukraine.
Service interruptions are inevitable in the affected areas, and International shipping times are likely to be impacted by slower trade lanes, but your local Diamond Service Centre will keep you fully updated as the situation evolves. Do not hesitate to get in touch with your Service Centre to discuss further
Diamond

 Social Shared Success

We would love to keep up with your exciting company news so don't forget to connect with our social accounts and if you would like us to share your social content with our audience, just tag Diamond in your social posts
Diamond

 Youtube

With new video content available on our Fulfilment, Overnight, International & Same Day services, check out our Diamond YouTube channel here
Diamond

 Thanks

A huge Diamond thanks to Pinar Akiskalioglu of TAKK and Sunny Dhillon of Easee for participating in our recent filming and sharing their feedback on their partnerships with Diamond.

If your business would be interested in being involved with any future press coverage or Diamond marketing, let us know at Abbie.Brixey@diamondlogistics.co.uk
Get 
Diamond

 Social

To celebrate our 30th Birthday, we have a Business Book Bundle up for grabs across our social platforms. Containing a selection of Kate's favourite books and some Diamond goodies, this bundle will make a great prize for a budding entrepreneur or business owner. Go to our social pages to enter.

Throughout March we are rolling it back to 1992, the year Diamond was born, with delicious cakes up for grabs for the winners of our weekly social competitions. Get involved and test your 1992 trivia for a yummy treat: Facebook/Instagram/LinkedIn/Twitter 
Best wishes for the month ahead,
Kate & Team Diamond