Southampton Fulfilment
We are super excited to have launched a new Diamond depot in one of our previously existing locations. Our Southampton fulfilment centre launched in the beginning of June this year. Diamond Logistics Southampton run all of the diamond services, fulfilment, same day, overnight and international couriers. We were just eager to see how they were getting on so we asked the following.
Who are you and what is your logistics background?
We are Nigel Guest and Ian Harley, between us we have over 25 years of experience as subcontractors to CityLink, FedEx and Parcelforce, as well as management roles within both freight and passenger transport industries.
What was it about diamond that made you want to join the franchise?
We were looking for the opportunity to utilise our vast experience within the industry and also expand into the fulfilment and same day markets. Also, the IT systems and platforms.
What was the process like getting your business started with the diamond franchise?
A very smooth one, very supportive and with excellent training.
Are there any clients you want to shout about that you have taken on?
Solent Sailboards (24/7 Boardsports) in Calshot. Rob and Jon are not only two of the nicest people you will meet, but also very supportive and appreciative of the efforts we put into making their business deliveries run smoothly. They were customers of the previous diamond franchise, and couldn't wait to come back.
What are you aspirations with your new business, where do you see yourself in 5 years?
We want to make a difference, and change the customer view on all carriers just being the same. We want to give them the smooth, hassle free service they need, but also a happy and enjoyable one that gives both them and us that warm fuzzy feeling you get from doing something great. In 5 years, we want to be the number one local courier and fulfilment  business on everybody's minds, who they know they can turn to, whatever their needs and requirements.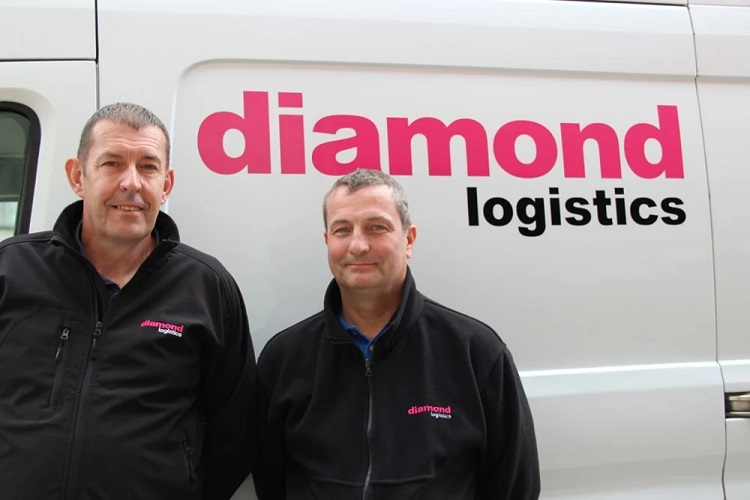 Are you local to Southampton and need someone to manage your fulfilment and/or courier needs? Then get in touch with Nigel and Ian today on 02380 988919 or email them at southampton@diamondlogistics.co.uk
Alternatively, if you would like to know more about how you could join the diamond network then check out our franchise and modular franchise opportunities or get in touch with Director Dan Allin at Daniel.Allin@diamondlogistics.co.uk