Diamond Logistics launches new Service Centre for eCommerce Fulfilment and Delivery in York & Harrogate
In July, diamond welcomed Rebecca and James Hall and team in York to the Diamond family.
Rebecca is delighted to be involved in diamond. Here's why they joined the Diamond Network.
'We've been a successful Amazon Delivery Partner the last 5 Years. We have a great site in and really felt it was time that we built additional services into our business model aimed at helping SME's in York and Harrogate to deliver. Adding same day courier, overnight and international deliveries plus eCommerce fulfilment means we can provide a truly world class logistics service and this will help local business reach their customers nationally and indeed globally.'
Covering fulfilment and delivery in Yorkshire, the new teams primary focus is building relationships with businesses in York, Thirsk, Selby, Scarborough, Filey, Bridlington, Thelby, Malton, Pickering, Ripon and Whitby as well as Harrogate.
The team are really excited about the new opportunity. And they couldn't be more local! Oliver Heaton started as an apprentice in 2016 and now work as office manager working alongside compliance, recruitment, and finance. And Joe Smith who started when he left sixth form in August 2018 as a recruitment consultant is now the Recruitment Manager. They'll be leading the York team to deliver.
Yorkshire born and bred, Rebecca was born in Doncaster and raised in Garforth, Joe was born in York and raised in York, James was born in Leeds and raise in Wetherby, Oliver was born in Harrogate and raised in Tadcaster! This is a truly local logistics team who really know their local patch and Diamond is just one string to their bow. It a real story of local success.
Joe says,
'I originally started in 2011 with just one man and a van and one route. WE now have over 500 vans over 27 Amazon depots. We also have a tech company, a payment solution and a body repair shop'.
Adding the diamond service to their business will mean extending their business base into the local business community. Any fulfilment and delivery needs are easily covered managed with Despatchlab – a one stop logistics platform that integrates 48 carriers and 60 marketplace channels to support businesses.
York and Harrogate is renowned for its £5 billion business community. With a a very skilled population, numerous universities and great transport links to both national and international markets, it's a great place to do business and have a great quality of life. You can find more about doing business in York here.
Diamond York and Harrogate looks forward to helping out local businesses with all their fulfilment and logistics requirements. With fulfilment, express parcels and same day all combined via our one stop logistics platform, despatchlab – it's the very best services and technology combined with quality local service delivery to give you a logistics experience to make you smile.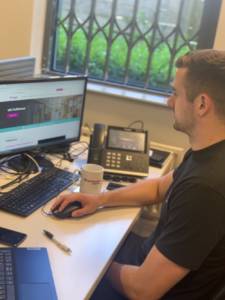 Get in touch today – the team at York and Harrogate really look forward to hearing from you.