diamond specialise in scaling online businesses. Clients such as Zipusin, Books That Matter, Revair and Epic Stuff have scaled up their sales, safe in the knowledge that their entire warehousing, fulfilment and deliveries can be handled reliably by personable local suppliers.

Outsourcing your fulfilment is smart. You get to concentrate on the interesting stuff – like product invention, sourcing and marketing. Ultimately though, you need reassurance that your goods are going to be delivered. Therefore it's essential that your fulfilment team are people that are as invested in your growth journey as you are in your business.
This is where diamond thrives. It's a company run by business owners FOR business owners. We truly empathise with you and your journey and we know how much each order matters.
Let us explain diamond fulfilment to you. It's simple:
Storage and E-commerce Fulfilment and delivery for your online sales.
Fully integrated with multiple marketplaces – Magneto, Shopify, Ebay, Amazon and much, much more.
Online inventory, storage and warehousing
We receive your orders, pick, pack and despatch your goods and deliver – same day, overnight domestic or international
Despatched by multiple carriers for every delivery requirement – big, small, low cost, high value – we have a bespoke carrier selection for the best service provision needed
All managed via one easy to use platform, our very own despatchlab.
You can rent just a few pallet spaces and despatch a dozen items a week or send thousands globally. diamond has the flexibility and skillset to do both.
Facilitating a wide range of deliveries from small electronics, supplements to pallets of coal, we deliver an extensive variety of goods, which is pretty unique too. Because we integrate with 10+ carriers at any one time, we deliver it all. Packet to pallet, national or global.
And here's another diamond difference – our local service centres run throughout the UK – so you can keep your goods close to you. You can go and see and touch your stuff. To some of our clients that's very important.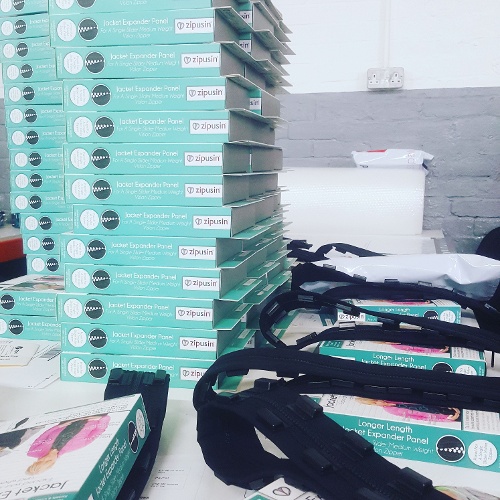 Zipusin founder Kate Bell uses diamond logistics to grow her business. Her unique award winning invention , the Zip Us In Jacket Expander Panel is an easy to use, wind proof and water resistant soft-shell panel that can be zipped into the front of your own jacket to allow continued wear throughout pregnancy.
For Zipusin, for the last 2 years we have:
Receive in & warehouse incoming stock from suppliers
Fulfil & despatch bulk orders directly into Amazon
Fulfil all Zip Us In website orders via integration with Prosku & despatchlab
Despatch all Zip Us In website orders using multiple carriers via despatchlab
Investigate, escalate & resolve any shipment/customer queries
diamond provides all the back office logistics support so Kate can continue to grow her business, not just in the UK but globally too.
We help your business grow – from start up to scale up – whatever your fulfilment needs, diamond can make it happen. Get in touch today. info@diamondlogistics.co.uk