Once upon a time, delivery in 3-5 days felt like a miracle. If we were waiting on a sofa, 6-8 weeks even sounded reasonable. Now I'm tapping my nails with impatience if something takes longer than 24 hours to arrive.
The drive to online commerce, fueled by the service standards set by retail giants like Amazon, has created a demand for next day delivery all over the globe.
In major conurbations like London and Manchester, people are even starting to demand same day delivery. Order in the morning, have your shipment by the end of the day, or even within a couple of hours. The progress to nationwide same day is inevitable as consumer demand drives the need for more and more urgent delivery.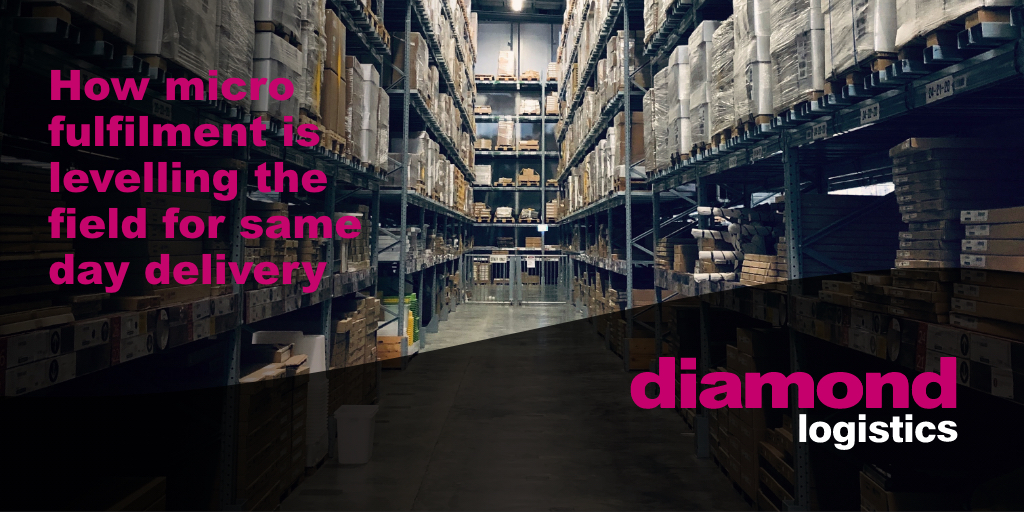 We've gotten so used to Deliveroo turning up in a matter of minutes. Just the other night, I pulled up outside my Brighton home and decided I fancied a curry. I clicked three buttons on my Deliveroo app, and by the time I had unpacked the car, the delivery from the Curry Leaf Café arrived. All in under 15 minutes. It was utterly superb, and it certainly satisfied my need for NOW!
diamond absolutely believes this level of urgency will soon be demanded by retail customers globally. PWC have reported that 40% of customers would be willing to shell out for same day delivery, and retail giants like Amazon are already capitalising on this urgency. In order to deliver on this demand, a vast network of local warehouses will be required within 45 minutes of all major conurbations.
And that's exactly what
diamond
has been building – the UK's largest national same day fulfilment and delivery network.
Whether you're on Amazon, Shopify or any other platform for selling goods online, you can now access our soon to be 40 fulfilment sites around the UK, with a further 40 launching in the very near future. Same day delivery won't just be accessible for the 8-figure eCommerce businesses, it will be fully available for anyone selling products online.
We're already doing this at diamond logistics – instead of delivering overnight via a consolidated carrier partner, diamond is fulfilling and delivering goods from our clients to their customers via our local couriers.
It's all tech-based, from predictive algorithms forecasting up to 80% of next day demand. Amazon started patenting its predictive technology in 2014, which determines what goods are likely to be ordered the next day. Innovative smart apps and warehouse management systems have followed, further evolving into solutions like our own despatchlab, which seamlessly links purchases to fulfilment to same day delivery.
Same day delivery isn't the future. This is all available now.
This means retailers who want to support this demand must provide goods faster and more flexibly than ever before. And whilst the big boys like Amazon can offer this service in some places now, most smaller companies simply can't. But micro fulfilment has the power to level the playing field, enabling all retailers to offer what their customers are demanding, allowing them to compete with the massive retailers. Unprecedented speed of delivery nationwide is finally within reach for the average e-tailer.
Historically, the 'last mile' has been considered one of the biggest headaches in the logistics industry. But now, placing multiple small scale warehouses close to the consumer demand is the solution driving the cure. Micro fulfilment solutions like our network make same day delivery not only possible but practical.
Even better, micro fulfilment offers a greener vision of delivery for the future – reducing congestion, minimising mileage and maximising localised consolidation – was well as growing local delivery operators' opportunities.
If you're looking to the future of your online delivery experience, get in touch today.
diamond

can help!