Where did the summer go? As we turn into September, everyone starts coming off that holiday, relaxed vibe and begins to focus again on growing and scaling up their business or career.
We have plenty of career opportunities for you to scale with us, just contact us here to find out more. And don't forget about our Shared Success© principle – we are invested in your success too.
But for those budding businesses out there, here are diamondlogistics's top 15 pieces of advice for scaling up your business:
Have the right team behind you. The correct people pulling your boat forwards, TOGETHER. And ensure they care almost as much as you do.
Acquire great, up-to-date technology that allows your services to be seamless.
Have a vision and share it with your team to get them excited. The only way you're going to get there is if you ALL work towards it.
Keep your fixed costs low. You want minimal fixed costs so that when demand goes down so do your costs – not your profits.
Marginal gains will slow your progress; you have to do big stuff to make huge movement.
Understand your weaknesses, outsource and budget for them.
Carrot & stick – reward your team for their great work. But when they muck up, give them the stick so that it doesn't happen again. But always check they've had the right training and support too.
Your core values – probably the most important of all. Define your 3 core business values, stick to them and remind people off them all the time so that it becomes natural. diamond's key core value: Shared Success© – building mutually beneficial partnerships. As you grow so do your network – it's win-win.
There are only 24 hours in every day – so you want to make sure you are spending at least 10 of those making money for yourself. Work ON your business, not IN it. Remember time is your most precious resource, save it, use it, guard it, and plan it carefully.
Routine is the father of success, persistence is the mother. The tools of success aren't rocket science, it's the daily discipline in everything that brings about results.

Join forces to have strength

. Strength in unity gives a louder voice with which to promote yourself.
There's no such thing as try….DO. Shifting from excuses to completion. And multi-tasking is for muppets, learn to focus

.

Be open to opportunity, be a magnet and choose the right ones.
Be open to criticism from the right people and listen to only the right people.
Employ experts – get people in who know more than you do to accelerate growth and are invested in and want to see your success – i.e.

diamond

logistics!
diamondlogistics is the one stop logistics company that helps build businesses.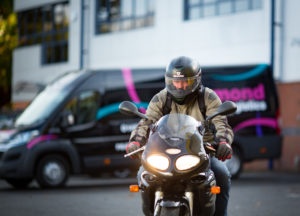 We are three unique services package, from ONE supplier:
same day

– the best way to ensure your VIPs (very important parcels) get delivered on time.

overnight & international

– sending parcels, pallets and more with a multitude of delivery options including – road, air and sea as quickly as you choose – same day and next day, domestic and international delivery.

fulfilment

– storage and fulfilment for smart businesses. The warehouse, carrier and customer services all rolled into one. The perfect outsourcing solutions for the very modern business.
diamond specialises in helping business owners liberate themselves from logistics that can steal them away from their core business purpose and prevent them from scaling up.
So this September, scale up with diamondlogistics.
Call us on 01483 779 659.