Alcohol eCommerce Fulfilment Client launches new gin
We know it's health and wellness month at diamond but our alcohol clients are always in our hearts so we had to celebrate Sky Wave Gin launching its new alcohol free gin, Sky Wave Zero.
Sky Wave Gin – one of Bicester Diamond's Alcohol Fulfilment Clients – has launched its very own alcohol free gin.
Sky Wave Zero
As the name suggests, Sky Wave Zero, is an alcohol-free spirit. Sky Wave say,
" This distilled botanical expression is the perfect alcohol-free alternative to a gin with a tonic. It offers a deliciously intriguing drink to be enjoyed at any time of day".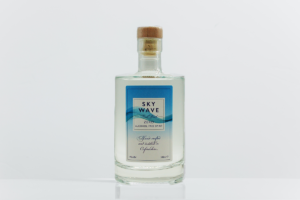 There is also a special offer on, whilst stocks last, of 2 x 2 x 200ml cans of Artisan Drinks Amalfi Lime Tonic included with every bottle bought so check this out today.
Award Winning
Sky Wave Gin are winners of two 'great taste 2022 awards' for their Sky Wave Signature London Dry Gin, Sky Wave Orange and Madagascan Vanilla Gin.
More than 14,000 products were put through the Great Taste Awards competition's rigorous blind judging process; and Sky Wave Signature London Dry Gin was dubbed a "delightful, well crafted gin" while Sky Wave Orange and Madagascan Vanilla Gin was described as "very drinkable" at the world's most coveted food and drink awards.
Sky Wave Signature London Dry Gin represents the true spirit of adventure with its 13 botanicals spanning the globe from Oxfordshire to Africa. Master Distiller, Andrew Parsons, distils very gently and slowly to ensure an incredibly smooth finish. It was named the World's Best Contemporary Gin at the World Gin Awards 2020.
Rachel Hicks from Sky Wave Gin comments:
"We know how important Great Taste Awards are to our customers. Many tell us they look for the iconic black and gold Great Taste logos as a mark of quality so we are thrilled to be adding them to our Signature London Dry and our Orange and Madagascan Vanilla Gin. This is another great step in the Sky Wave Gin journey which is going from strength to strength – and we are not even four years old yet."
Alcohol Fulfilment partnership with Diamond Bicester
As gin lovers, Team Diamond can't wait to partake! And asking Rachel about her experience with her new Diamond Alcohol fulfilment partner in Bicester. Rachel says:
"We are thrilled to be working with a wonderful new fulfilment and logistics partner, who share our green aspirations too. We are always striving to do our bit for the planet and our children. Darcica is a finalist in no less than 3 categories of Cherwell Business Awards, and as a previous winner ourselves, we wish them all the best and look forwards to a bright, green future with them".