Subscription boxes demand and supply are booming
And set to double year on year according to the Royal Mail. And we have a specialist centre in Bournemouth who can help you when you want to start your business.
There are two major types of subscription boxes experiences.
Access – i.e. specially curated or unique content not easily obtainable outside the subscription.
And Repeat – i.e. stuff you need time and time again. And there are so many – from Glossybox, to Dollar Shave to Degusta
When should you start to outsource?
Our experience shows that by the time you get to 300-400 boxes a month then the time it takes you and the cost to your business in terms of your time lost, and economies of scale we can offer then this is the right time.
Remarketing
It's likely you've had your box for a few months at least, possible a year. You've got your suppliers and it's a monthly box with up to 6-7 items including your remarketing materials (you are remarketing, aren't you??). You're determined to grow and you need a long term business plan as it will be a 12 month contract to start – including minimum targets.
A Growth Plan
A growth plan is important – so a good sales and marketing plan with a scale up strategy showing progress over a few months helps us evaluate the package we can offer you. The faster you scale the more costs effective your fulfilment becomes so it's worth your time to think about this properly.
We have a few successful ones for you to take a look at – and indeed a couple of start-ups we are launching in 2020.
Check out: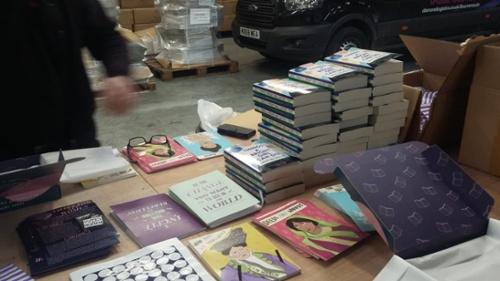 www.booksthatmatter.co.uk – check out Molly Masters AMAZING subscription box focusing on putting women's writing in the
spotlight through unique reading experiences. Their bestselling book subscription boxes each capturing an important theme specifically to enlighten, educate and empower. And all from £16 a month.
For Molly we:
​Liaise with Molly/BTM to ensure all stock is received by our planned date & receive stock into fulfilment centre
​Create box & send video of such to BTM for approval
Create all boxes
Take pictures for social.
Receive & format BTM csv of customer orders – (by special request).
Book on Hermes shipments (Domestic) & send csv of Royal Mail shipments to BTM to book on with Royal Mail & send us the labels.
Despatch via Hermes (Domestic) & Royal Mail (International)
After despatch, handle any delivery enquiries
Liaise with BTM to plan for the next despatch.
www.takkbox.com –  this is Pinar Akiskalioglu's new subscription box which is aimed at simplifying life by providing high quality monthly essentials on a subscription basis. Due to launch in March 2020 we forecast this will be the next hit.
If you'd like to talk to us about it then speak to Craig and his team in Bournemouth – they are our specialist subscription box site.  You can catch them at bournemouth@diamondlogistics.co.uk or on 01202 069 460.