Shall I outsource my fulfilment? It's a good question. And it's one that smart retail entrepreneurs ask themselves early on. The right time to outsource your fulfilment is:
When you're too busy to do it yourself

When your goods are being stored in, and filling up, your home or garage
When your existing fulfilment partner is not able to scale with you



At approximately 200+ orders per month you are a 'scale up' business not a 'start up.' At this point, and all of a sudden, you've become a warehouse picker and packer. Not the skills you want to be using at this point in your eCommerce career right?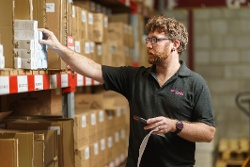 Tripping over boxes in your hallway, picking, packing, queuing at post offices… And you're doing all this instead of being an eCommerce entrepreneur. Instead of marketing, developing and selling your products. If you continue to operate your fulfilment in this fashion, it will cost you time and money.
This may sound like a familiar story to some. Read our interview with drinks retail client Sacred Spirits here. Founder Hilary Whitney started selling online in late 2008. It was her job to pack up all the orders and take them to the Post Office back then. It isn't now. Now Hilary enjoys a thriving business, with Diamond Logistics as her outsourced fulfilment partner.
As a 'start up' business you've had a chance to test your product, now you're ready to scale and outsource the bits that:
a) Are not your core skillset.
b) Can be a massive time vampire in your business but are essential to get right.
Unlike most eCommerce providers we are happy to support launch brands. We have scaled 100's of businesses online and are truly dedicated to you expanding your brand.
For more information, please visit our eCommerce fulfilment page, or if you have any questions, maybe our eCommerce fulfilment FAQs will have the answer?
For your free consultation with one of the Diamond Logistics eCommerce experts, complete the following form and our team will be in touch.