First, it's probably worth mentioning that the storage facility you need can be called a number of things! Warehouse, Service Centre or Fulfilment Centre are the most popular terms, and the ones we usually use.
Because we operate across sectors and are a national network from Plymouth to Edinburgh our clients have lots of options. Using a Service Centre close to where you live/your office means you can pop in regularly. Our centres are nothing like the giant Amazon warehouses you see on Panorama! Our service is personal and bespoke which means you can access our centres at a time convenient to you to touch your products, choose your packaging or chat to the team.
This was a deciding factor for watersports retailer FatStick Boards when selecting Diamond Logistics as its fulfilment partner. For co-owner Andy Warner, a major benefit of choosing Diamond was being able to go into the warehouse to see and touch his boards, 200 of which are usually stored nearby in Bournemouth, each one at least 10 feet long (Read the FatStick fulfilment success story here).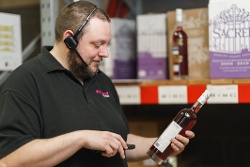 Another option is to choose a centre which specialises in what you do. Diamond Logistics Guildford for example, specialises in alcohol fulfilment, and is home to clients including Sacred Spirits and London Vermouth.
If subscription boxes are your thing, then you'd want Diamond Logistics Bournemouth.
If you need lots of cost-effective space then our 40,000 sqft centre in Wales might be just the ticket. Bigger clients may need bigger sites to cope with growing future demand (a nice problem to have).
Finally, you might need multiple sites for sameday fulfilment, which we view as being the future of eCommerce.
A final point! See our facilities and the teams which operate them as an extension of your business, because that's exactly what they are.
For more information, please visit our eCommerce fulfilment page, or if you have any questions, maybe our eCommerce fulfilment FAQs will have the answer?
We're certain we have a service centre to match you and your business. Call us today on 0333 567 588, email us at sales@diamondlogistics.co.uk or complete the below Contact form to find out more about the benefits of partnering with us: