This month, we touched base with one of our newest Network Partners based in the heart of Leeds. John Bagley and his team officially joined the Diamond Network Partnership program in October 2022 to grow their fulfilment and delivery services in Leeds. We caught up with John to learn more about their move to the Diamond Partnership, their growth and what their goals are for the year ahead.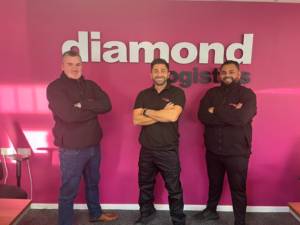 John Bagley first launched his independent courier company in July 2020. His first contract was with Amazon as a last mile delivery courier. John sits on the team as the Head of Operations with his colleagues Anthony taking on the role of Company Director and Marlon in charge of the sales for all Diamond Logistics contracts.
How and when did you start working as a courier?
We started out as a DSP for Amazon in July 2020. We saw an opportunity to build our own courier business from the ground up due to the increase in demand exacerbated by the global pandemic. From the very beginning, we grew from strength to strength and saw massive business growth.
What is your experience working in the logistics industry?
We started our company with no experience prior to 2020.  Quite literally, learning our new trade on the job meant that it was a fast-learning curve. We are very lucky that working with Diamond has helped us. We've become more knowledgeable and gained sector experience from some of the best in the industry. Specifically, the sales and the customer care side of things. Nurturing relationships is a big plus of working with Diamond.
What advice would you give to a new Diamond Network Partner about the wider logistics services and what to expect?
In my honest opinion, if you are presented with the opportunity, go for it! You will be expected to roll up your sleeves and work hard, but it's a fun industry to work in.
What do you love about your job?
I love that no two days are the same! You could even say that no two hours are the same. Every customer is different and bring their own diverse set of challenges or requirements.
How did you connect with Diamond Logistics?
We came across one of Diamond's posts on LinkedIn which piqued our interests. We were fully engaged by the content they were sharing and appreciated their message.  Obviously we became very intrigued as to how we could join them and benefit from their industry experience.
What are your business goals for 2023?
Our main goal is growth, more customers. We'll also focus on improving our  support of current clients' businesses with the additional logistics solution we can offer them.
How are you expanding your service offering to clients now that you have partnered with Diamond?
Our plan is to offer fulfilment solutions and the same day delivery services to more customers. We'll also  develop our use of Diamond's logistics management technology, Despatchlab. This ultimately makes our services much easier to deliver.
Run your own courier business? Would like to expand the services you offer as well as having access to better technology? Time to get in touch. Phone 0333 567 5888. Email us at npsales@diamondlogistics.co.uk or complete our contact form below.