Having already postponed last year awards it was important that we still celebrated success and took our award online. It was with great pleasure the following people won accolades for being very diamond – despite the huge challenges of 2020. As the diamond saying goes 'There is opportunity in adversity' and these winners showed the way.
Network Team Member of the Year – John Elsom – diamondlogistics Croydon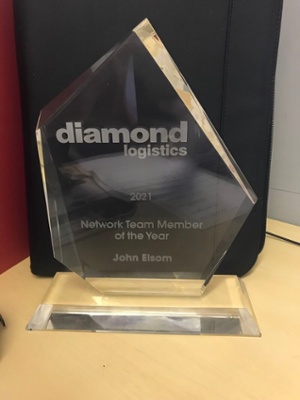 John Elsom achieved sizeable success in his service centre but he has always had an eye on the business as a whole – from coaching fellow Business Development team members, taking part proactively in our sales support events, through to supporting and indeed fronting the continued development of our network.
John says: "Firstly I must say a big thank you as I must say it was a great honour and privilege to receive such an award…..I was actually speechless for the first time ever! I joined diamond in March 2019 so it's nice to signify my almost two year business anniversary with this recognition. I also celebrate ten years in the courier industry this year, so great timing. The last thing I won was the egg and spoon race at Junior School in 1974 so it's been a long time coming!
I have enjoyed my time with the business so far and have striven to add value where possible by applying my experience and knowledge in not only supporting the Croydon service centre with significant business and operational support, but also teamdiamond as a whole. It's been a tough twelve months for everyone as we know but we at diamond have all soldiered on, supporting each other to make the best of a difficult situation month on month, and will continue to do so going forward in what we all hope is a better year us all."
Team Member of the Year – Eve Terry – diamondlogistics HQ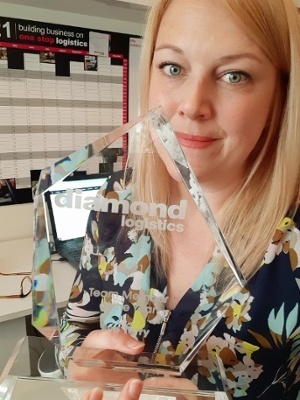 Eve always goes the extra mile, supporting joint initiatives within sales and marketing, supporting a difficult time with our previous marketing incumbents and always having diamond at the forefront of her mind. This as well as notable success with in her specific job function – all whilst home schooling – for which she and so many of you deserve a medal alone!
Eve says: "I'm truly honoured to receive Team Member of the Year. The recognition gives me great warmth, especially since and during current covid challenges. It wouldn't be possible without a team though and thank you all for your continuing guidance"
Network Team Star – Steven Lisle – diamondlogistics HQ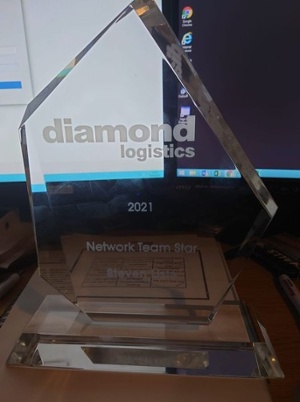 Steven is a relative newbie to teamdiamond but very quickly staked his claim as an invaluable member of the team. It's a tough job that he undertakes as part of our finance team – safe guarding the business and our network partners, making sure invoices are raised and protecting us from bad debt, and ensuring we expand with worthy clients who will pay their bills. It's a tough job doing credit control – but not only does he do this job extremely well, but statistically our aged debt is in the best place it has been in diamond history so big up to Steve Lisle – nominated by the diamond Network as Network Team Star.
Steven says: "Thank you for the award. It is very humbling to know that the network think so highly of me. I hope I can continue to improve and support the network to the best of my ability."
The Roger Seaman Memorial Trophy, Courier of the Year – Fergus Alvey – diamondlogistics Luton & Watford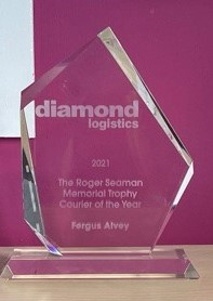 Where would we be without the ambassadors of our service on the road? Let us never forget that without these people collecting and delivering on the front line we would be nothing.
A little history about Roger Seaman – he worked for us for over 15 years and sadly passed away hours after completing a delivery. He was always hugely company focused, incredibly good at his job, our London specialist and entirely exemplary of the diamond brand. Congratulations Fergus!
The nomination for came from diamondlogistics Luton and Watford. Service Centre owner Ben Soames says: "This person has worked with us for 9 years from day one of Silver Lining Couriers. He normally carries out 7.5T trunking, 3.5t same day and overnight collection driver, plus warehouse supervision on big projects. He is exemplary because he sets the example to all the younger drivers. He's smart, his van is spotless come rain or shine, never misses a days work, follows instructions to the letter and is our lead driver at 76 years old. He has been in remission from bowel cancer for 10 years and you would never know it. He has become part of my family over the years and comes to all birthday and Boxing Day celebrations. Without sounding corny he is a true diamond!
Fergus says: "Many thanks to diamond and Silver Lining Couriers for putting me up for the award – it is great to know my efforts are appreciated. To learn of the significance of the award with regards to Roger and the history surrounding it, I am honoured."
Environmental Award – diamondlogistics Guildford
It can be tricky in our industry to be environmentally friendly but we must always do our part. We have made a strong effort this year at encouraging diamond sites to really look at their green commitments – for our future and that of our children and grandchildren. This is a matter of global importance.

This year diamondlogistics Guildford have replaced the Service Centre lighting, converted clients to eco packaging, maintained its rigorous recycling programme and ensured all new cars bought are 100% electric – so well done to the team at Guildford as this year's Green winners.
Values Award – Abbie Brixey – diamondlogistics HQ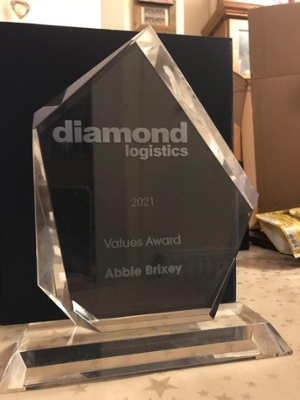 diamond is a values based business – with Shared Success, being a great company to work with, trust and belong to and diamond deliver being key to the way we do business, the way we treat each other and the way we support out clients, team and network partners.
Abbie exemplifies this. Despite being pretty new to the marketing department, she is speedily climbing the ranks. Abbie is super helpful, always has teamdiamond in mind, is thinking about diamond pretty much 24/7 and is always keen to get things right. She's an utter pleasure to work with and has been recognised throughout the board and network as being the personification of a diamond kinda gal!
Abbie says: "To say I'm touched and appreciative of my Values Award win is an understatement. Since joining diamond in 2018 it has been a thoroughly exciting whirlwind of a journey with our diamond values at the core of all we do. Logistics in general is a fast paced, constantly evolving sector to work within, but with the additional Covid-19 and Brexit challenges of 2020 faced by diamond, our clients and the logistics sector as a whole, this only amplified our drive within the marketing department to ensure that anyone who needed an alternative logistics solution would already know about diamond and what we are able to offer. It has been a real pleasure to learn and grow within my role, and certainly a honour to be acknowledged for the part I play within the team, but the key word is "team" and what I do is only possible with the strong, dedicated and hardworking team I'm lucky to be part of."
Woman in Logistics – Simone Morrison – diamondlogistics Bristol
It's important that we champion equality, diversity and inclusion at diamond. And by putting the spotlight on Women in Logistics it has helped us achieve our parity goals at diamond – with equal pay and employment numbers throughout the business. We did that by shining a light on women in business because, quite frankly logistics needs women to build its workforce for 2021 and beyond. And we need to keep doing this until logistics as a whole becomes a diverse and inclusive employer.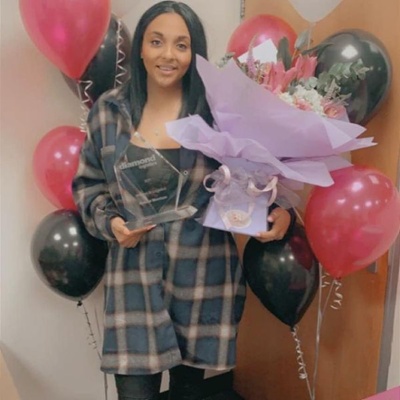 Here's what our Bristol Network Partners – Mandy and Daren Watkins-Smith – had to say about their service centre team mate Simone as they nominated her for this years Women in Logistics Award 2021: "I am so proud to be writing just a few of many words I could write about this exceptionally kind, generous, committed, accomplished colleague and cherished friend.
Simone quickly became an extension of us and over the years has supported us in so many ways. We have learnt together, laughed together, and cried together along the way. We have together created the business that we have today.
Remarkable is a word that comes to the fore of my mind when I think of Simone. Like for many of us, transport and logistics is not in Simone's genes, it is an industry that Simone has adapted to and learnt so much about throughout our journey together. I say together as we don't make many decisions without Simone's input. We grow this business knowing that we have the support of Simone and her wealth of knowledge and experience. The business has developed so much over the years that Simone's role has naturally morphed from one to another. Each time the business steps up, we as business owners have to step up and Simone steps up with us.
Over the last couple of years Simone has not only been supporting us in our business growth but has also supported us in growing the team. Passing on Simone's knowledge to the newer, less experienced team members is so important to our team development. Simone is a person that the team go to for help, knowledge and in our absence, decisions. So, it is with thanks to team diamond that enables us to celebrate Simone's achievement in this challenging industry.
We are so blessed to have Simone on our team, so proud of the logistics professional that Simone has become and so honoured that Simone is our 'Women in logistics'.
Top Growth New Network Partner – diamondlogistics Luton and Watford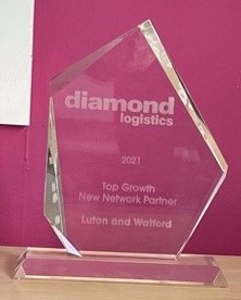 Having only launched in 2020, it has been a hell of a baptism of fire for Luton and Watford. Both in sheer scale and volume, and of national importance with the main substance of this contract based on them delivering vital PPE around the UK on behalf of the DHSC, have given diamondlogistics Luton and Watford revenues of over £1m in their first year alone. It is without doubt that the Top Growth New Network Partner Award goes to Ben Soames and the team at diamond Luton and Watford.
Ben says: "It's been a great first year for us as part of the diamond network, we wanted to join a network with national capability and that we did! It didn't take us long to land a business defining contract in the DHSC being handpicked and brought in under emergency powers to deliver crucial PPE supplies to NHS England. It was not without its trials and tribulations but together we worked through all obstacles and have delivered a magnificent all round service becoming the shining light on the emergency desk.
A three month contract has morphed into what will be 12 months this week and is showing no signs of being wrapped up… just yet!
Thank you diamond by acknowledging us with the award for the Top Growth New Network Partner, it means a lot to me and the team, makes us feel like we belong and we have a lot of exciting things in the pipeline for the remainder of this year….. so watch this space!"
Top Growth Existing Network Partner – diamondlogistics Bournemouth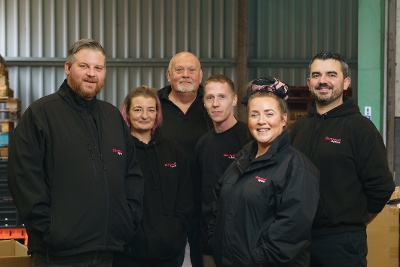 Whilst this site only launch just over 2 years ago – the head of this site has been with diamond for over 7 years. And it's been an incredibly journey of personal growth and development. Doubling the service centre income and providing a storming start to 2021 with a record breaking January and with this year looking set to be a staggering one too for diamondlogistics Bournemouth director Craig Brixey and teamdiamond Bournemouth. Well done all!
Craig says: "After what was the most challenging year of my career to date, receiving this award topped off a year of dedication by my fantastic and hardworking team to meet and exceed our goals and expectations for 2020. Without the support from each individual team member, this achievement would not have been possible. We thank everyone who have supported us through our growth…..you are only as strong as your team."
Network Partner of the Year – diamondlogistics Plymouth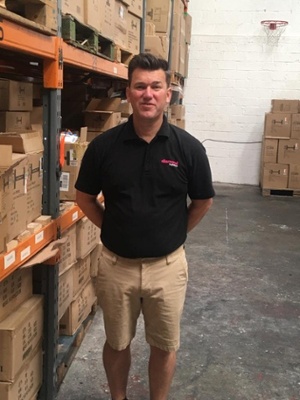 Network Partner of the Year means you have not only built yourself a lucrative business, but you have also adhered and exemplified the diamond standards, been a contributing member when we request diamond network feedback, constructively suggesting improvements and engaging with network membership.
It is also about building great relationships with your clients – with long term retention and delivery of diamond service. Ryan Cook of diamondlogistics Plymouth has been Network Partner with us for over 5 years and has continued to build his business. It's been a hectic year but from delivering urgent PPE to supporting  eCommerce clients by expanding the fulfilment capacity at his site, Ryan and diamondlogistics Plymouth have fully embraced the fact that there is opportunity in adversity and have made this a record breaking year for the service centre. A massive well done from teamdiamond
Ryan says: "I'm really pleased that Plymouth has been awarded the Network Partner of the Year. 2020 was a challenging year, and it's great for our team to be recognised for their excellent performance through it all. We're all delighted to be part of the diamond family and are looking forward to a bright future together"
If you would like to join teamdiamond, take a look at our diamond career opportunities here.
If you would like to find out more about becoming a diamond Network Partner, please complete the below form for further info: