eCommerce Fulfilment
FAQs
Your eCommerce fulfilment questions answered
When is the right time to outsource?
The right time to outsource your eCommerce fulfilment is when it becomes too busy for you or your staff to handle, when your goods are filling your storage space, or when your existing fulfilment partner is just not able to scale with you.
You may find that your business has grown to 200+ orders per month, you are starting to be a 'scale up' business, not a 'start up', and suddenly you have become a warehouse picker and packer, not an eCommerce entrepreneur.
Outsourcing your fulfilment will allow you to concentrate on your skillset as a business owner, whilst working with a trusted partner that you know will get your goods where they need to go quickly and efficiently.
How much does it cost to outsource Fulfilment?
Outsourcing eCommerce fulfilment for scale up clients is a LOT more cost effective than having your own warehouse, pickers, packers, warehouse management system, operations managers, customer service agents and more. Instead, you simply pay per m² for storage, a price per pick and pack, and a fee for the delivery. This can start from as little as £2 a shipment.
The factors that impact fulfilment costs are: the type of goods, the destination, delivery times and carrier selections. It's best to get a bespoke quotation based on your goods, your business aims and your customers. This way we can help you match your expectations with the right carriers or couriers.
How do i chose the right fulfilment partner?
When it comes to eCommerce Fulfilment, there are lots of different solutions depending on your end users. You must decide what is most important and where you want to scale to. Are you planning on being the next ASOS? If so, you need one of the big central UK warehouses. If you are an SME, then something more local and accessible may be for you.
What matters to you? Do you care who you are working with? Is it a functional relationship? Are you trying to build a rapport with a trusted partner to build your business? Do you care about the environment, recyclable packaging, and CSR (Corporate Social Responsibility)? Your fulfilment partner will need to understand your values and implement them.
There is a world of difference between big scale fulfilment houses and a more personalised, localised solution. Deciding what values and attributes are most important for your business will ultimately inform your choice.
How does eCommerce Fulfilment work?
Diamond's eCommerce fulfilment system is designed to integrate with your marketplaces and website. Your goods will be taken into the warehouse where stock and inventory will be synchronised, giving you live 'in stock' information. With your delivery options decided, you are ready to go. It's that simple.
Your orders will automatically come in from your systems to the warehouse where they will be picked, packed and dispatched. You will have 100% transparency of your goods through our management system, which will update you on fulfilment status at each stage from arrival to delivery.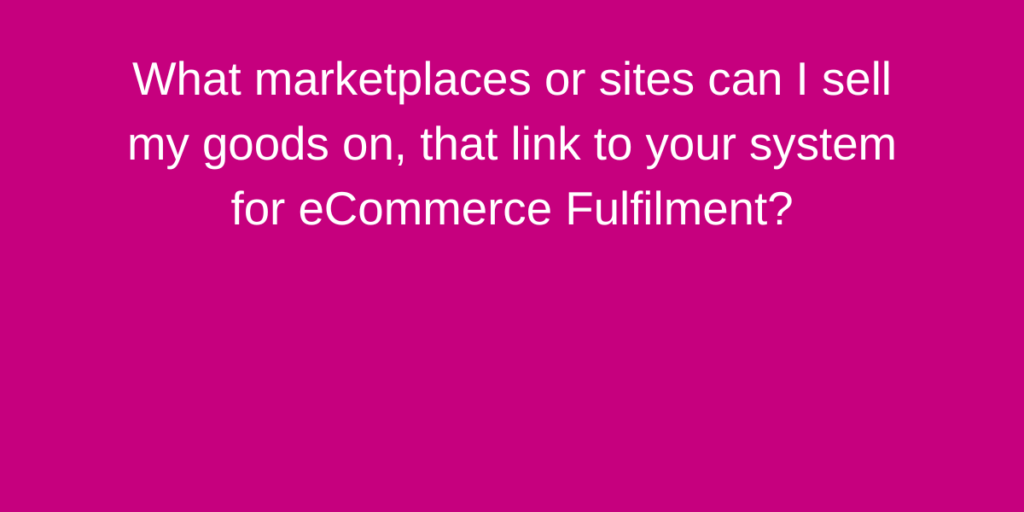 What marketplaces or sites can I sell my goods on
We fully integrate with eBay, Amazon, Magneto, Shopify, WooCommerce, Linnworks plus 40+ more marketplaces, and we offer bespoke integrations too. This means your orders will drop straight into our system, Despatchlab. It then monitors the whole order journey from pick to delivery, always giving you 100% transparency in your eCommerce fulfilment journey.
You can see what has been picked, what is going out that day and what has been delivered. If a delivery goes awry, you can see what has been done to remedy it.
Despatchlab is very easy to use. It gives you a real time operational overview and also provides you with reports that can tell you how to improve business growth.
Where can I store my goods?
You have a lot of geographical choices for your eCommerce fulfilment. You can choose a local hub, so you can pop in regularly, or a warehouse that specialises in what you do. For example, our Guildford centre specialises in alcohol fulfilment and Bournemouth in subscription boxes. If you need lots of space for a cost-effective price, we can offer our 40,000ft² centre in Wales.
We will work with you so you can scale to capacity. Bigger clients may need bigger sites to cope with growing future demand. Specialist business may need multiple sites for same day fulfilment. Whatever your need is, get in touch and we will create a bespoke solution.
Why Diamond?
If you are looking for an eCommerce fulfilment partner that will provide you with a named person at the end of the phone, who will develop a personal relationship with your business, who wants to understand your brand and values and who is already trusted by a wide selection of SMEs, then diamond is for you.  
Diamond is big enough to have all of the space, resources, infrastructure and carrier relationships that your eCommerce business will need to grow. We strive to be a reliable partner, one that will be around to support your business in years to come.
Contact Us
Would you like to speak to someone?
We'd love to hear more about your business and explain how we can support your needs. Just complete the form below and one of our team will be in touch soon.